Seeds For Future Memories - Voicing the two ends of migration is a cooperation between the artists' residences Thread in Sinthian, Senegal, and Villa Romana in Florence, Italy. Join us for the exhibition opening on Friday 12 July 2019 18H in Acud Galerie.
PROGRAMME
Opening: Friday 12 July 2019 18H
20H: Concert Jumpin' from the towel
by Justin Randolph Thompson
Afterwards concert with NEGGA DOU TAMBA (rapper, artist and activist, Tambacounda)
Exhibition: 13 July – 3 August 2019
Opening Hours: Thursday – Saturday 14 – 19H
Participating artists: Leone Contini, Fabrice Monteiro, Patrick Joel Tatcheda Yonkeu
ABOUT
Last year, 13 artists travelled back and forth between both 'ends' of the migratory path in Senegal and Italy.
For years, the region surrounding Tambacounda in the south east of Senegal has had the highest rate of migration in West Africa. On top of this, it is a crossing point on the dangerous route to Mali, which goes on to Agadez in Niger and Sabha in Libya. Less than ten per cent of migrants reach Europe, where they ultimately find themselves stranded in refugee camps. The others die en route or end up in prison. For many years, tens of thousands of people of Moroccan, Senegalese and Nigerian descent have lived in Tuscany. The African diaspora in Italy also includes the more than 300,000 migrants who have survived the perilous route across the Mediterranean Sea in the last three years. When you speak to them individually, many often say that it wasn't worth taking the risk of fleeing their home countries. They can't find work, their treacherous journeys and the months or years spent in refugee camps have traumatized them, and they often experience a devastating sense of loneliness in Europe.
The Seeds For Future Memories
... project creatively examines the asymmetrical historical and present-day relationship between Africa and Europe with the intention of discovering and developing narratives that overcome both sides' unilateral invention of the 'other'. This includes researching the delusional idea of the 'West', something driven by hope, pride, narratives and familial pressure, as well as the effects of neo-liberal globalisation, rapid urbanisation, land grabbing and the negative effects of climate change. The participating artists from both residences see themselves as 'transmitters', introducing new channels and spaces for dialogue.
Jumpin' from the towel
... is a sound work that navigates social displacement and moral collusion within the context of nationalism. A repurposed organ controller pedal, a drum machine and a lap steel guitar come together to create a soundscape that draws upon the sacred steel tradition crossfaded with electronic loops that are both triumphant and stagnant. Drawing its title from Jesse Owens' 1936 long jump in Berlin, where he accepted to take a small loss in distance by jumping from his towel instead of the fault line, this sound performance mitigates the acceptance of injustice as a form of resistance.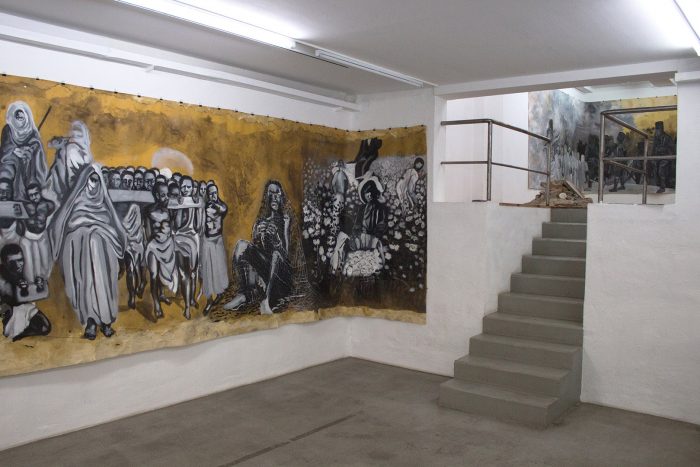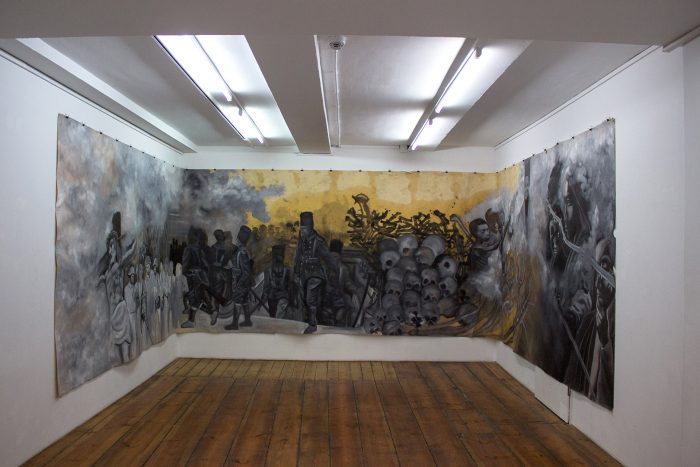 Patrick Joel Tatcheda Yonkeu
The exchange between Thread und Villa Romana in 2018 was supported by the Heinrich Böll Stiftung Senegal and ifa (Institut für Auslandsbeziehungen).