We kick off our year with the January 2020 residents of Amplify Berlin: Fanis Gioles and Laure Boer, who've spent the month working with their mentor Rabih Beaini. Each have completed a track as part of their residency and will play a live set at the showcase event on 4 February at ACUD Club on a lineup alongside their mentor.
The mentees have interviewed each other revealing more about their thoughts on creativity, multidisciplinarity and ritual.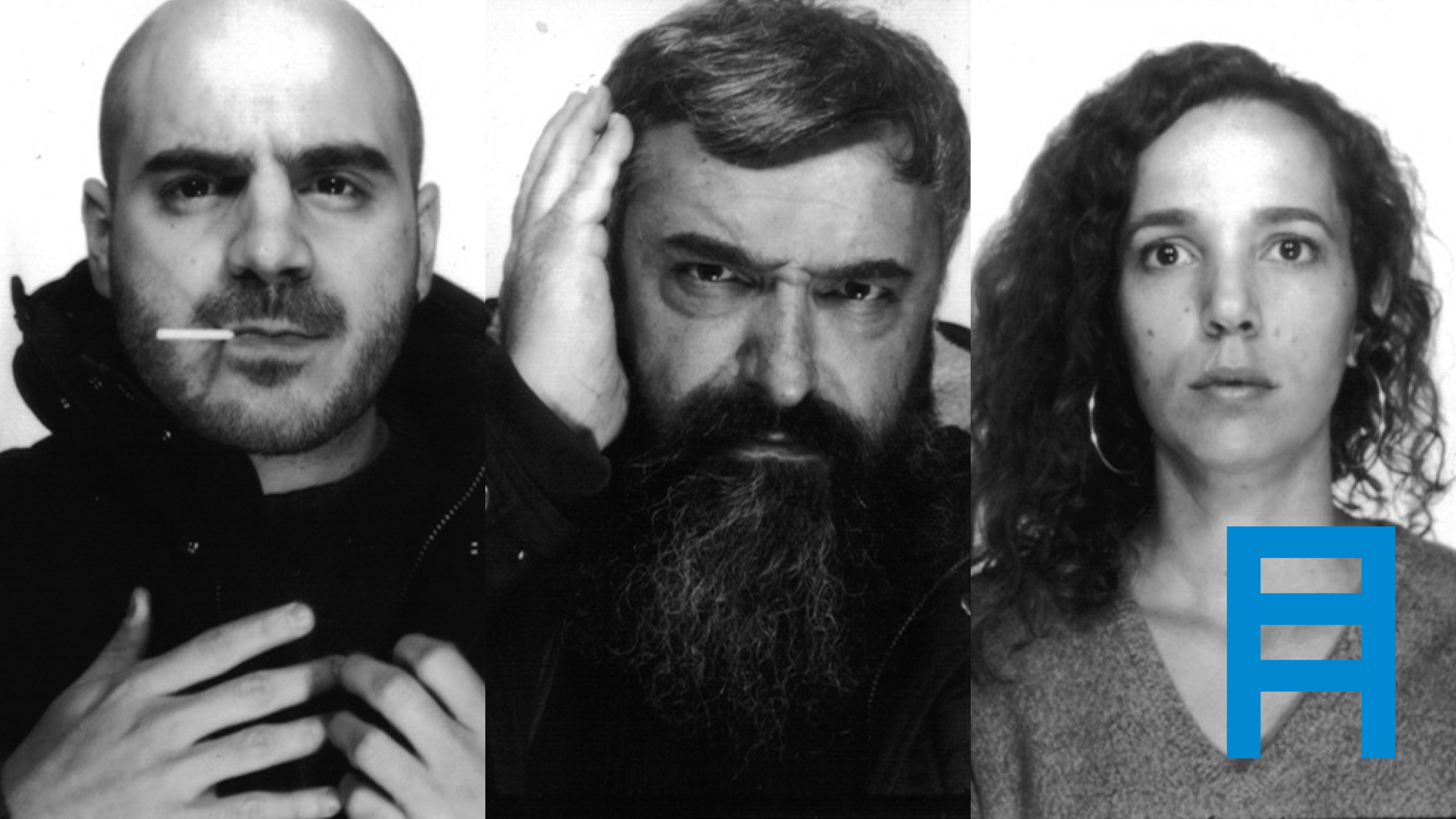 L to R: Rabih Beaini, Fanis Gioles, Laure Boer
FG: You are active in the creative field both as a musician and as a graphic designer. Are these two separate in your mind or one is inspired by the other?
LB: Visual and sound expressions are for me two different things in the way I receive and feel them. I do see similarities in my working process in both fields. I was researching  a lot the last 10 years about creative processes in my design practice. I like to work with strategies, following rules in order to reach unexpected results that I wouldn't get if I would just apply my skills. I realize that I have similar ways to work in music, looking for a balance between developing my technical skills and being open for accidents and irritations.
FG: Some months ago you had a residency in Manila. How did this affected you musically and as a human being?
LB: The performances I've seen in Manila were very powerful. Some musicians are building tools, instruments, effect box themselves. It creates a very special and unique sound. They also build on demand special effects for other musicians. The scene is vivid, self-organized, they help each other. So many things to say about it!! The energy of the music scene there impressed me a lot.
And everybody was so friendly. I've learned there that you can be critical about all kind of difficult topics in the world, and still smile. A topic doesn't justify being aggressive or unfriendly. I try to remember that, even it's a real challenge here in Berlin.
FG: Tell us a bit about your future plans and how(if any) they are affected by the Amplify Berlin residency
LB: In the future, I'd like to work more on editing tracks. The last years, I've focussed my practice on live performances. To work on the track for Amplify made me realize that editing would also help me to improve my live performances, to take time to work on structure and timing. And with the work we did with Rabih Beaini, I think I'm gonna go through the publications I'm currently working on and work further on them with a new perspective.
LB: You got a classical music percussion education. How did you start working with electronics? What were your reasons?
FG: I do have a complete academic education in classical percussion but since my masters I specialize in 'contemporary classical music'. I have always been fascinated by experimental music, either coming from the academic or the underground scene and of course electronic music is a major sector of it. I have been interpreting percussion repertoire pieces with electronic tape during my university time but just performing them wasn't enough for me. Therefore I started taking electronic music courses and making my own compositions. Also through electronic music and its wide spectrum I feel I can combine my past as a physic student and my present as a musician.
LB: You're currently working on a composition for a theater piece. How do you approach this kind of work as a musician?
FG: Actually this is the first time for me composing music in such a level; it is going to be a 3 hours play, 'Die Hamletmaschine' from Heiner Müller directed by Helena Bennett. Composing for a theater piece is a challenge; being as precise as you can get, creating the right atmosphere for the play and thus show your personality. It requires spending a lot of time on different tasks; doing research for the play, being present at the rehearsals and improvising live and of course composing in the studio. I try to compose music inspired by the actors' interpretation and I am excited the moment I see it working vice versa, my music becoming a vital element for an interpretation.
LB: Do you have a particular way/rituals to prepare yourself before your shows?
FG: It literally is depending on the show. Of course I need some concentration moments before the concert, but most of the time the whole preparation period is a ritual for me, could be three days or one month. Could be a mental ritual, a body preparation, or both. In my mind this is what art is all about, the time you spend with yourself, for yourself, working in a project.