Meet the two September residents of Amplify Berlin: Sofia Salvo and Thoom. And listen to the tracks they have been working on this month together with their mentor Khyam Allami. The two will present their new live sets this Wednesday 30th at ACUD Club in front of a very reduced audience due to the COVID-19 regulations.
Sofia Salvo has been improvising and making weird creatures with her baritone sax since long ago in Buenos Aires, Argentina. After moving to Berlin in 2019, she also began to compose her own sound collages by mixing sax, her voice, and noise recordings. Both for her live free improvisation performances and her house made tracks, she finds inspiration in everyday traumas and dreams, she needs to create to transform, and all in the end, to be able to be more present in the present time.
Thoom is a Lebanese singer-songwriter. Her unexpected melodies set to edgy, electronic dissonance fuse with minimal, age-old arrangements like a guitar and a voice. Sometimes screaming, sometimes whispering, Thoom is a storyteller, often singing about fantasies of love, morality, and human nature. Following two years of live performance and experimentation, Thoom just released her 9-track debut album, Pork.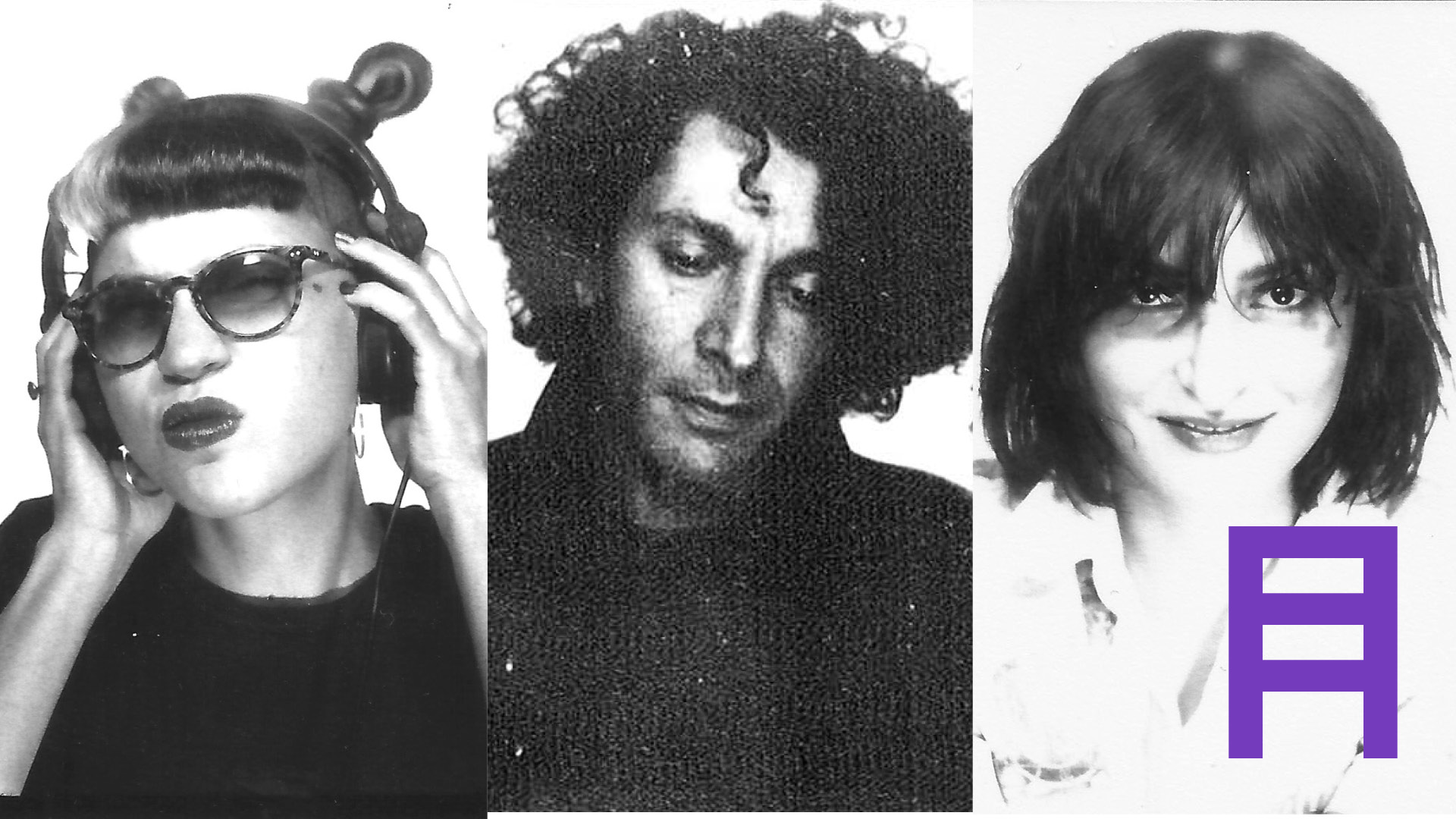 L to R: Sofia Salvo, Khyam Allami, Thoom

Amplify Berlin Monthly Radio Show on Reboot FM
T: When did you first start performing improvisation, was this your first experience with music?
SS: My first experiences with music were mostly in the academic world and with rock bands from friends in high school. Then rock developed more into playing free noisy stuff, and with the passing of time I found the free improvisation scene in Buenos Aires and felt that was my place. That also made me realize that the formal careers I was studying didn't totally make me happy so I quit them. For me, so far, free or experimental expressions are the ones where I feel I can speak more from myself instead of playing "styles" of music, which anyway I also enjoy, but I feel they don't belong to me.
T: In your duet El Segundo Es Terrible, how do you guys record your improvisations? What is the process of recording like?
SS: That's a good question because we just recorded our second album in a different way than the first one. Last year, we rented a little house for 2 nights on an island pretty far from the city of Buenos Aires and we set up a diy "studio" with a zoom recorder and two mics. Then we played relaxed and freely during those days, and after we selected the material. This time, we recorded here in Berlin in FailSafe Editions studio, and for this time we rehearsed a lot and came to the studio with some concepts for which we did a couple of takes of each. So, improvisation was key in both albums but this time we also tried to develop a more conceptual/compositional idea.
T: I know that the core of your work is improvisation. In a recent interview, you said that the material you're working on now is much different than what you had released previously. What has changed?
SS: Well, as much as you get into something you enjoy, the more you want to grow on it. So this year I began to work with digital audio editing and composing with my laptop, and for the first time I released a material by myself and where the sax is not the main instrument. I want to develop my impro language also into compositions. It's a challenge because until now my relation with music was mostly as a performer and not a composer, but I want to see what's in my mind.
SS: You live in different parts of the world — how do you think the context influences your creative process?
T: I think most of the influence is subconscious and just happens. In a way, traveling a lot and not having much of a home base forces you to assert yourself, in whatever community or "scene" you find yourself in. Sometimes I feel like I'm battling with where I am and the aesthetic and social politics of the place I'm in and this process grounds me and inspires me. Traveling a lot can be disorienting too; it reminds you of all the options you have…But through living in all these different places, I've made music with people who have vastly different processes and it has taught me a lot about the different ways I can approach making a song.
SS: There is a very strong aesthetic in your music and atmosphere. How did you get to develop that particular universe?
T: I was making visual art before I made any music so that has always been a part of what I do and how I imagine. A lot of times when I am writing a song I will imagine visual scenarios and many times, it helps me finish writing lyrics. I also collaborate a lot with Ike Clateman and Chuck Clateman, we make most of the visuals together. I usually have an idea, then I express it to Ike and Chuck and we build on it. Sometimes it can take weeks but sometimes it's immediate and it feels right. I try not to think about it too much. It's really nice because I feel like we don't really talk about concepts or anything. We can communicate through what we're making and understand each other.
SS: What else would you like to do that you're not doing yet?
T: I'm starting to get real sick of performing with a computer and staring at a screen all day and all night. I want to try some different setups. A lot of people that have said that the computer is an instrument and stuff like that and I think that's true, but it doesn't give a feel as human as other instruments I have been playing with. I'm looking for something more immediate.