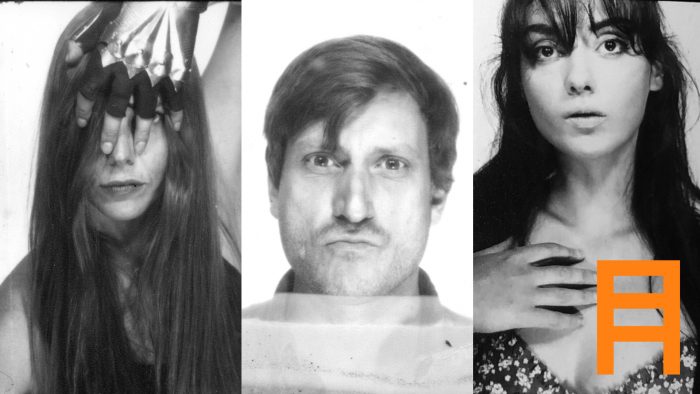 L to R: Anchoress, Jan Brauer, Mona Yim
July residency was bright and full of surprises: The Amplify Studio has been taken over by Jan Brauer of Brandt Brauer Frick and two new mentees Anchoress and Mona Yim: Listen to their tracks below and learn more about the two musicians!
Mona Yim is a music producer, singer-songwriter, DJ and violinist. Born and raised in the south of germany she has Singaporean-Chinese and German roots and is currently based in Berlin. While spending a lot of time in the clubs of London, Berlin and Paris she discovered her love for electronic dance music and started to DJ and play live-sets. Mona Yims musical style can be described as House and Techno with UK rave influences. Inspired by artists such as Yayoi Kusama, Haruki Murakami and David Lynch she explores topics such as female empowerment, the exploration of her own identity and mental health and creates stories with a slightly surrealistic touch.
Anchoress is a project by Berlin based composer, singer and artist Anna Lucia Nissen. Anchoress understands music as a way to explore spaces beyond logical boundaries, creating a world that allows for connections on both an intellectual and emotional level. With a focus on vocal delivery she crafts arcane eulogies centered around her distinctively androgynous tenor howl. Anchoress' songs are cinematic in the way they reveal their narratives, and she considers song writing to be like scoring an imagined film. Accompanied by haunting strings, android choirs and swelling synthesizer drones, her vocals metamorphose into different characters. These lyrical protagonists are amalgamations of historical figures, feminist literature and observations of her surroundings telling stories about female anger, 21st century alienation and their yearning for new forms of collectiveness. Influenced by the experimental use of orchestral music of artists such as Scott Walker or Franco Battiato, Anchoress fuses elements of modern classical, dark post-industrial sounds and Gregorian chant into devotional hymns which collapse in on themselves to form uncanny ecstatic dirges.
MY: What is the first memory you have about making/experiencing music?
A: 
The act of active music-making is very much linked to me falling in love with my now husband, whom I met during an exchange semester at the art school. I asked him to form a band and we sat in his studio and with some words I've written, a drum machine and his guitar. I liked him so much that just I couldn´t sing a word for an hours. The first song we made is called "Matchbox" and I sometimes listen back to this crappy recording where you can hear him encouraging me to just open my mouth. So music brought us together and I´m beyond thankful for that!
MY: 
If you could choose one song to send out on a record into space for other possible species to listen to which one would it be?

A: Well, the golden Voyager record has been out there since the 1970s and it´s packed with a lot of Mozart and Beethoven. So maybe they´d be grateful for a change and listen to some pop music. I initially would go with a Queen Song because you don't want to withhold that from any Alien, no? But I choose "If You Could Read My Mind" by Gordon Lightfoot. It's just such a beautiful song that they won´t be able resist coming down to earth and discovering all the beautiful music that we have.

MY: What is your spirit animal?
A: Of course Fuchur.
A: If your music were a painting – what time would it be from and what would it look like? Please describe
MY: I'm super inspired/influenced by Yayoi Kusama and her art, so I'd love to think that my music would look like one of her installations or paintings. So I would describe it as pop art with a hint of surrealism and minimalism. I try to create a little world with each of my tracks, so each song would look a bit different than the next. Colourful with certain repetitive textures to it and always a strong feeling or concept behind it. Lots of polka dots.
A: What do you believe in?
MY: I definitely believe that trying to act with love and empathy is the best way of progressing in life. I would consider myself as a spiritual person in a sense of that I feel it's important for me to be connected with nature and my surroundings. Also I'm pretty much a geek when it comes to astrology, energy and mindfulness and stuff like that. Could go on forever since there are a lot of things I believe in, but this should be enough for now.
A: What's your favorite dinosaur?
MY: Dreadnoughtus – they look so cute and chill and eat only plants. Also imagine being 26m long and 6m tall – what a crazy view u must have.
RADIO SHOW