Meet the two January residents of Amplify Berlin: Jana Irmert and Anna Jordan aka The Allegorist. And listen to the tracks they have been working on this month together with their mentor Robert Lippok. The two will present their new live sets this Thursday at ACUD Club. Robert Lippok will also play live.
Jana Irmert is a sound and media artist based in Berlin. Her practice involves audiovisual installations and performances, electroacoustic multichannel compositions, experimental film work and sound design and music for film. Being interested in less tangible aspects of existence like temporality and impermanence, she creates atmospheric audiovisual or sonic spaces "that work with dis/harmony in such a way as to mirror our imperfect world at the moment." (TJ Norris, Toneshift)
Her first album End of Absence was released in 2016 on Fabrique Records, followed by her second album FLOOD in 2018. Both received critical praise from various music blogs and magazines and have been internationally broadcast on RAI 3, Resonance FM and BBC Radio 3.
Anna Jordan aka The Allegorist uses the pseudonym "Anna Jordan Project" for her visual artworks since 2004. In 2015 she took up another artistic name "The Allegorist" to express her auditive visions. The Allegorist stands for an imaginative journey through all ages, for a better future. It mixes all styles and genres and sets no limitations. Every great idea is welcomed and included into the mindset of a diverse unity. The Allegorist sings in the fictional and majestic Mondoneoh language, to connect all nations and honour all our ancestors.
In 2016 her debut album "Botanical Utopia" was released by "Kraak Records". In 2017 Anna Jordan began working simultaneously on music and video production, which resulted in her latest audio-visual works for her second album "Hybrid Dimension I."
What were your expectations when you applied for Amplify? Would you say these expectations were met?
Jana Irmert: My expectations were to have a productive month, to try out new approaches and gear and to get creatively stimulated in ways that I wouldn't if I would just work in my own studio. Above all, I wanted to be open for a new process, be it in the form of technology I haven't used, a different work environment or ideas and feedback from people. All of this definitely happened.
Anna Jordan: End of 2018 I reached a step, where I was ready for new input. So the residency in January started in the perfect moment for me and I was looking forward for the new challenges. On Peter Kirn's smaller event series in 2017 I heard Robert Lippok playing and talking about his set in Maze and I was greatly inspired by that. I had never thought that a year later the possibility would come up to apply for a residency with his mentorship. Also Raster is one of my favorite labels of all time and I was blown away that he had chosen me as a mentee.
When I applied for the residency I never played live ever, so I was looking forward to jump over my shadow. In the meantime I played 2 shows, but still I'm almost having no experience at all and was looking forward for learn more about it.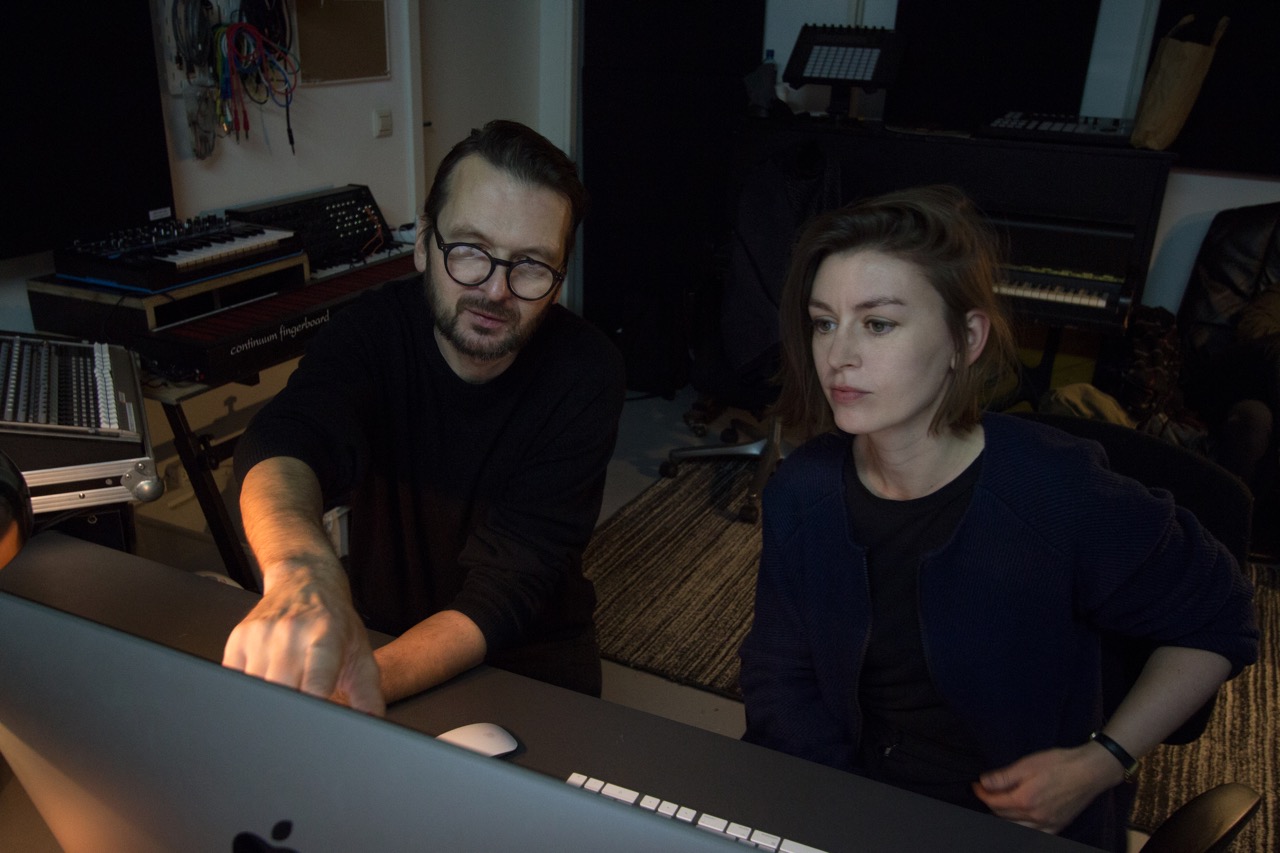 How has your residency gone so far? Any highlights? 
Jana: It has gone really well, it's hard for me to pick a certain event. I think the moment you realize, after maybe a phase of frustration, that something is finally coming together that is sounding good and has a certain magic is always a great relief. A highlight also definitely was to get to spend quite some time with such a variety of hardware synths and sound processors – I could have easily taken a month more for that!
Anna: Since I started making music in 2015 I was working in a mainly digital setup, with sampling my voice and guitar. I was very focused from the beginning on production and on my monitoring situation because I see it the way, that all the decisions a music producer makes is based on hearing and with it my focus expanded on mixing strongly.
Because I never worked with hardware I was first skeptical about the studio gear. What could I possibly do with all that in only a month? But soon I realized I highly underestimated how quickly you can learn to work with hardware. It's just a different approach, somewhere it takes more time and somewhere you can save time in comparison to software. I really do like both.
So my personal highlight was working with hardware for the first time.
How was working with a mentor? Is there something in particular that you have learned during the residency?
Jana: It was a great experience, I had never worked with a mentor before, so I didn't have any concrete expectations. There are many things I have learned, maybe the most valuable are the simple things – for example my goal was to solely use Ableton as DAW this month which I usually don't do, so there were certain things in my workflow that didn't work that well. Robert's advice was to then just not do them! It might sound very basic, but it leads to quite a different process. Without that advice I probably would have tried to find workarounds, so this time trying to "paint with a broader brush" was extremely helpful and effective and led to spending more time on processing and shaping the sounds.
Anna: It is always interesting to meet someone in person you know only trough the internet and you are looking up to. It can be as expected or it can surprise you.
What I appreciate about Robert is that he tells you what he really thinks and that he likes to tell stories. He gives the mentee lots of freedom and has a direct and very human aura, so it felt very natural and close to work with him. He has his own specific way of mentoring, more like a good friend than an authoritarian lecturer.
I also feel like the last part of the residency will be more intense and that the mentorship may go beyond the Amplify Residency in some unexpected way in the future.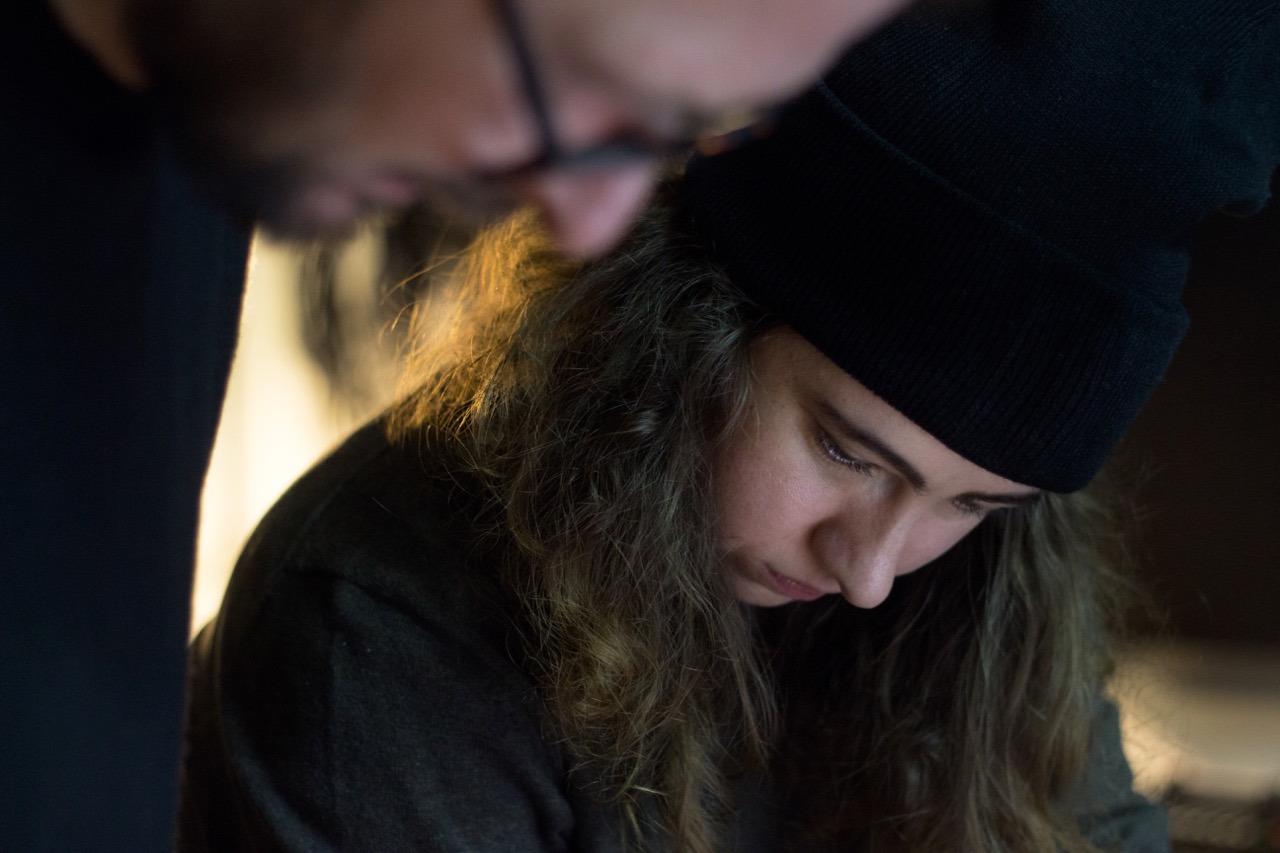 What can people expect from you at the showcase concert?
Jana: Hopefully an exciting travel through time and space!
Anna: My live sets starts with a dark ambient track with cinematic drums. I made this track with the Cubase intern plugin Padshop based on 432Hz and Action Strikes from Native Instruments. I will add an atmospheric sound for the beginning with the Softpop from Carsten Electronics/Bastl Instruments and I will play the Novation Bass Station II. For this setup I made another live mix version of the track which gives the two added analogue instruments the space needed.
The second part of the live set will be ambient, experimental, techno-ish beats. I recorded the loops with Elektrons Analog Rytm and Digitakt, Dark Energy III., Novation Bass Station II. and the Modular from Schneidersladen which I will play with the Push2 and Novation Launch XL. I will use the Elektron Heat as a send trough the Focusrite Clarett 4Pre USB Interface. I might glue the two parts with a vocal element together.
What are your plans for the future?
Jana: I will work on a new album, and the material I created throughout my time here at Amplify is definitely a good start. Also expanding the new live set and collaborating with a visual artist on the visuals is already in planning. I have many ideas and things I'd like to do and it's still only the beginning of the year, so who knows what great things will happen!
Anna: First of all I plan to set up a strong 1-2 hour live set or sets. In a few years I wish to add a visual part to it, so I would like to look into some of the VJ softwares like Modul8, Resolume or others and to learn the basics of VJing.
I'm also looking forward to expand my studio with hardware and to integrate them into my current workflow. What I love the most is learning, creating and developing ideas and myself as a person, so I will continue with that forever.
I'm also planning to become friends with Moby and to retire with 70 happily at the sea where I can experience the sunrise every day.