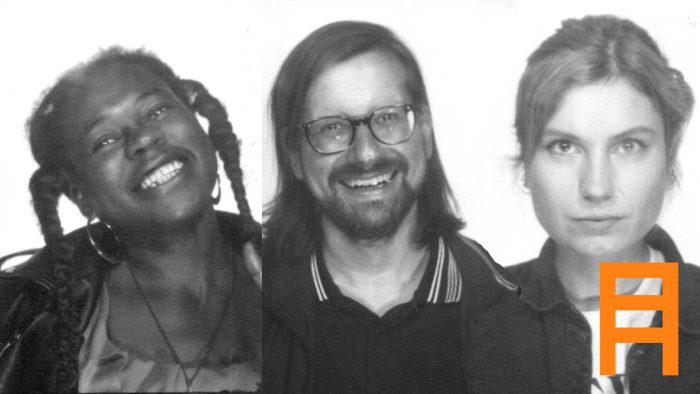 L to R: Elsa M´Bala, Hainbach, FridaΨ
For the past month mentor Hainbach has worked with emerging artists FridaΨ and Elsa M´Bala aka AMET on recording music and helping them to hone their craft. We´re pleased to reveal you today the two tracks resulting of this June 2021 residency: "Erinnerung Süssauer" by AMET and "Inmates" by FridaΨ. The two mentees´ discussion below tells you the new musical inputs Amplify gave them. They talk as well about their actions for a more gender-inclusive electronic music scene and what they are willing to share through their music.
FridaΨ (Zuzana Hamm) is a Berlin-based artist using synths, bass guitar, harp, vocals and field recordings for creating slow, sombre songs. Her musical influences range from darkwave and UK bass to post punk and experimental electronic music, but her main inspiration is both natural and urban environments as well as her own dark inner universe. In 2020, she released an EP 'The Night' where she captured moments of cold solitude and poetic observations through her melancholic viewfinder. Her latest release is 'Dreamared', an EP she recorded together with Bridget Feral as MOSST. FridaΨ has a monthly radio show called Forest District on the London-based Threads Radio and co-organizes Meetup Berlin, a monthly event for femme & LGBTQ* electronic music artists and DJs.
Based between Berlin and Yaoundé, Elsa M'Bala aka A.M.E.T. is one of the rare female sound artists of African descent. By using technology as an empowering tool and through her own keen observations, she explores further the interconnections between race, gender, technology and spirituality. Her broad oeuvre varies from radio productions to live performances, as well as films and visual work. Elsa M'Bala performed and exhibited at IfA Galerie Berlin (DE); Casino Luxembourg-Forum d'art contemporain (LUX); Dak'Art Biennale (SEN); Les Brasseurs, Liège (BE), among others. Upcoming performances are at Gessnerallee, Zürich (CH), DEKOLONIALE Projektraum, Berlin (DE) and Halle Alte Feuerwache, Köln (DE). Since 2019 Elsa M'Bala also practices as a massage therapist.
EM´B: How did you get into Electronic Music?
F: My dad is a fan of Kraftwerk and he gave me cassettes of Björk and The Chemical Brothers when I was around 12/13 years old. I mainly consumed mainstream pop on MTV before that, so didn't get the music right away. But eventually I played it on a walkman on repeat and was hooked for life! As a teenager I would go to jungle and DnB parties, and as an adolescent, I got into ambient, experimental electronics and noise thanks to my older friends. Then I started clubbing which still influences me a lot as well.
As a uni student, I've started exploring the history of electroacoustic music and musique concrète and eventually wrote a thesis about the BBC Radiophonic Workshop and Kraftwerk's Kling Klang studio, which got me more interested in gear – although I already used to take keyboard music lessons as a kid and since the moment I first laid my hands on KORG Polysix, I've been hopelessly in love with synths.
EM´B: Did it ever bother you that there are so few women involved in the industry?
F: It does bother me every day; mostly because of all the amazing artists and people who I know are out there but have less of a chance to succeed or even access the electronic music world because of their gender identity as many areas of the industry are based on strange "bro" models. That's why I've been co-organizing an event called Meetup Berlin (@meetupberlin on FB) focused on femme* and LGBTQ* community in electronic music since 2016. We discuss various perspectives and share personal experiences, from music education to music production to booking to music festivals. It opened my eyes and ears about sexism, exclusion and the disproportion of genders in the scene. With the event and in my daily life, I try to focus on positive steps forward and inspire other people to be more aware of the issues and supportive of initiatives that work to change the status quo and bring more variety of genders and backgrounds in the electronic music…Because electronic music is the most beautiful thing and there is enough space for everyone!
EM´B: Which new musical input has Amplify given you?
F: So many, I don't even know where to start. Besides Amplify, I have to mainly thank my mentor, Hainbach, who has been my Gandalf on this crazy journey. He's a fantastic producer, able to set his ego aside, comprehend my artistic vision and elevate my ideas and put them in order. I've never worked this thoroughly on so many parts of a song, from lyric writing to production, but at the same time, there was a lot of room for experimentation and play. The whole process flowed naturally and I felt very confident and comfortable every step of the way…
And also listening to your tracks, Elsa, that you made during the Amplify program and jamming with you in the studios of ACUD and at Hainbach's! That was a great fun and even thought the music was quite different from what I usually do, it sparked a lot of fresh inspiration inside my by-default-doomy music mind. 😉 So thank you, dear!
F: What's your vision as an artist? Did the Amplify residency help you get closer to your goals?
EM´B: Yes, definitely. Amplify Berlin helped me get a concrete vision of how I can create and perform the music I desire, despite the struggles I have encountered working with DAW that were not designed for the complexities of non-western music. I still kept pushing and dwell more into live performance and hardware but with this new understanding I was blessed enough to get at Amplify Berlin (in particular thanks to Hainbach) I feel more in control of my artistic direction so much more than before the residency. I'm not a slave to the grid no more.
F: What's your dream event to perform at?
EM´B: Honestly anywhere where there is a great understanding of how art, music and technology can nourish each other. Ideally with a breath-taking natural landscapes to accompany it.
F: You speak many languages. Does this knowledge translate into your music and what do you communicate most with your music?
EM´B: True. I speak 7 languages and I believe this is why I felt always more like the producer instead of the vocals.  My communication skills I believe enable me to easily transmute complex emotions into sounds. Electronic music and the gear that shape it have helped me discover the endless river of possibilities that is within each one of us.
Radio Show
Posted 30.6.21