On Monday 18th, Join us for a come together with traditional congolese food in the Acud Backyard as part of the Yambi - Our House is our house residency. Yambi is a friendly takeover of ACUD Kunsthaus by Artists from Kinshasa and Berlin.
PROGRAMME
MI 14.8 ACUD BACKYARD 19H – ACUD MACHT SOMMER
Yambi – Our House is your House: Open-Air Screening
MO 19.8 ACUD BACKYARD 19H – GET TOGETHER
Yambi – FUFU Dinner: traditional Congolese Dinner
FR 30.8 ACUD GALERIE, CLUB 18H – EXHIBITION OPENING
Yambi – Performance and Exhibition Opening Night
Exhibition 31.8 – 14.9 ACUD GALERIE
Opening Times: Wednesday - Saturday 14-19H
ABOUT
*English Below
Im August 2019 okkupieren 6 Künstler*innen aus Kinshasa und Berlin das Kunsthaus ACUD in einer freundlichen Übernahme, um das Projekt Yambi zu realisieren. Yambi ist spontane Gemeinschaft, Performance, Konzert, Essen und Ausstellung, sowie Aneignung und Transformation von öffentlichen Räumen.
Die beiden Berliner Künstler*innen Henrike Naumann und Matti Schulz laden ihre Freunde Orakle Ngoy, Lucille de Witte, Wilfried Luzele Vuvu und Chris Shongo ein, um die Taktiken und Methoden der performativen Kunst von den Straßen Kinshasas nach Berlin zu tragen.
Von der ACUD Galerie ausgehend werden alle Räume des Hauses und dessen digitale Kanäle in Beschlag genommen.
Mit dem Einzug der Gäste am 10.August beginnt die Inbesitznahme des Hauses, am 14.August zeigen sie Filme von Künstler*innen aus Kinshasa im Hof des ACUD, am 17. August findet eine gemeinsame Präsentation und Diskussion und am 19.08. ein großes Fufu-Dinner statt mit traditionell-kongolesischen Speisen. Den Höhe- und Endpunkt stellt die Ausstellungseröffnung und Performance vor dem Haus dar, welche während der drei gemeinsam verbrachten Wochen zusammen entwickelt wurde.
Während des gemeinsamen Arbeitsprozesses steht die zusammen erarbeitete Performance und Ausstellung im Fokus. Die Künstler*innen entwickeln ohne Einfluss von Choreographen, Kuratoren oder der Festlegung eines bestimmten Themas ihre Arbeiten.
Der gemeinsame Ort des Schaffens, sowie die gemeinsam verbrachte Zeit beeinflussen die Produktion.
Das große Ziel ist es, Menschen zusammenzubringen und dadurch neues, künstlerisches Potential zu entfalten. Zusätzlich produzieren und gestalten die Künstler*innen ihre eigenen Kostüme. Was in Kinshasa zur urbanen Kunstszene mit dazugehört, wird in Berlin eine Besonderheit sein.
Im Dezember treffen sich die Künstler*innen abschließend noch einmal in Kinshasa, um dort ihre Ergebnisse zu präsentieren.
Koproduktion: Wilfried Luzele Vuvu (Lova Lova), Johannes Braun (Acud Macht Neu), Matti Schulz | Künstler: Orakle Ngoy, Chris Shongo, Lucille de Witte, Henrike Naumann, Wilfried Luzele Vuvu, Matti Schulz | Ton & Licht: Philipp Hülsenbeck | Presse & Kommunikation: Saskia Gebert | Unterstützt von: Goethe-Institut, Internationaler Koproduktionsfonds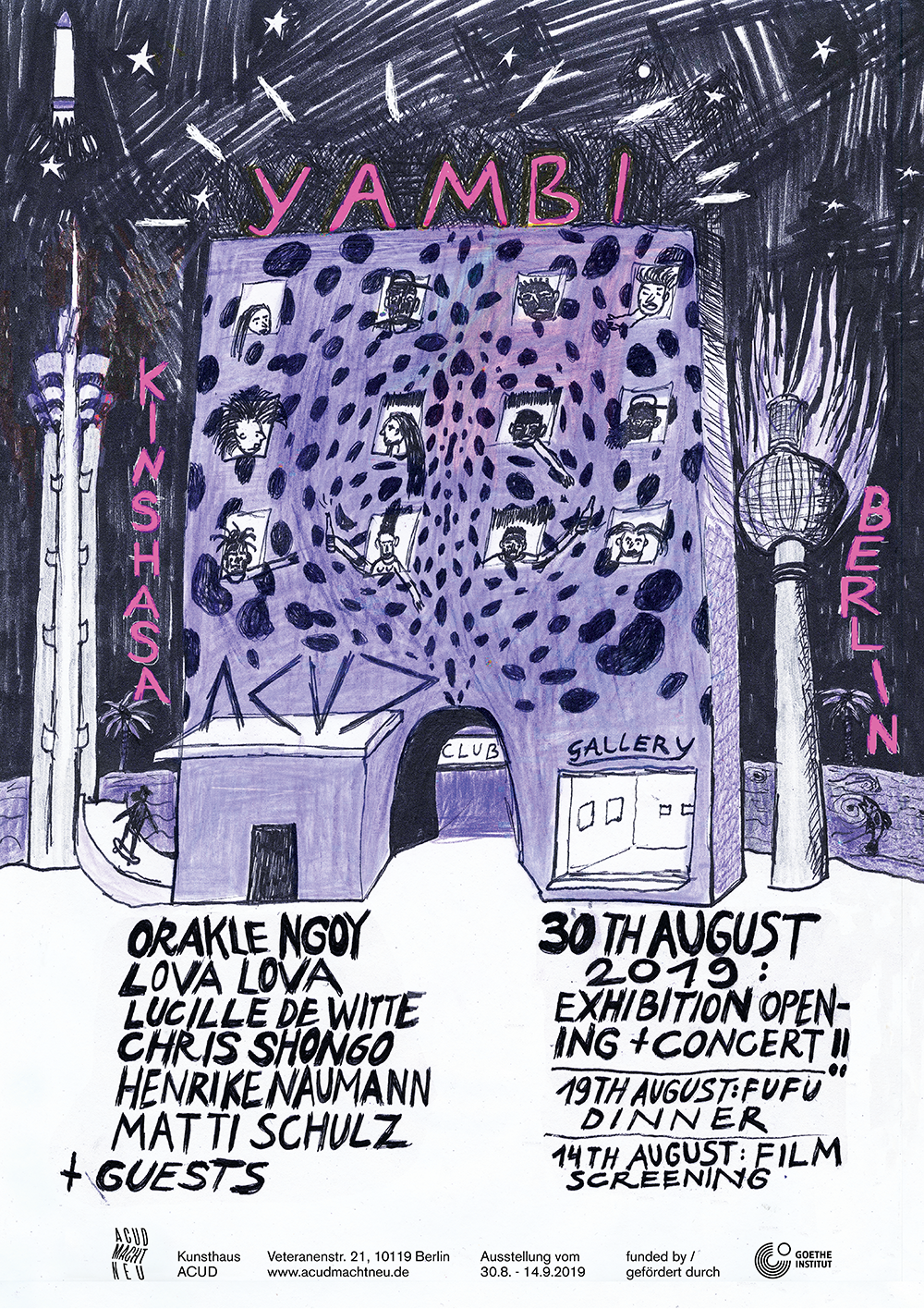 Wilfried Luzele Vuvu (Lova Lova) (Democratic Republic of the Congo), Acud Macht Neu (Germany), Matti Schulz (Germany)
"Yambi – Our House Is Your House" is a short residence, a friendly takeover, a laboratory, a happening. Yambi aims at strengthening and expanding the bonds between the Kinshasa and Berlin urban art scenes. Four artists and performers from Kinshasa will travel to Berlin for a 3 week residency. Together with Berlin-based artists, they will form an intercultural collective that "floods" the Kunsthaus ACUD with its creativity and that develops, over the course of three weeks, an interdisciplinary programme that centres around a joint music performance. The residency also extends to a "digital takeover" of Acud's social media channels by the collective. Envisioned parallel activities in Berlin are film programmes, networking sessions, and an exhibition. In Kinshasa a closing performance and a parallel photo and video exhibition will take place.
Co-production: Wilfried Luzele Vuvu (Lova Lova), Johannes Braun (Acud Macht Neu), Matti Schulz | Artists: Orakle Ngoy, Chris Shongo, Lucille de Witte, Henrike Naumann, Wilfried Luzele Vuvu, Matti Schulz | Ton & Licht: Philipp Hülsenbeck | Press & Communication: Lukas Dubro | Support from: Goethe-Institut, International Coproduction fund
gefördert durch/funded by Goethe-Institut Berlin