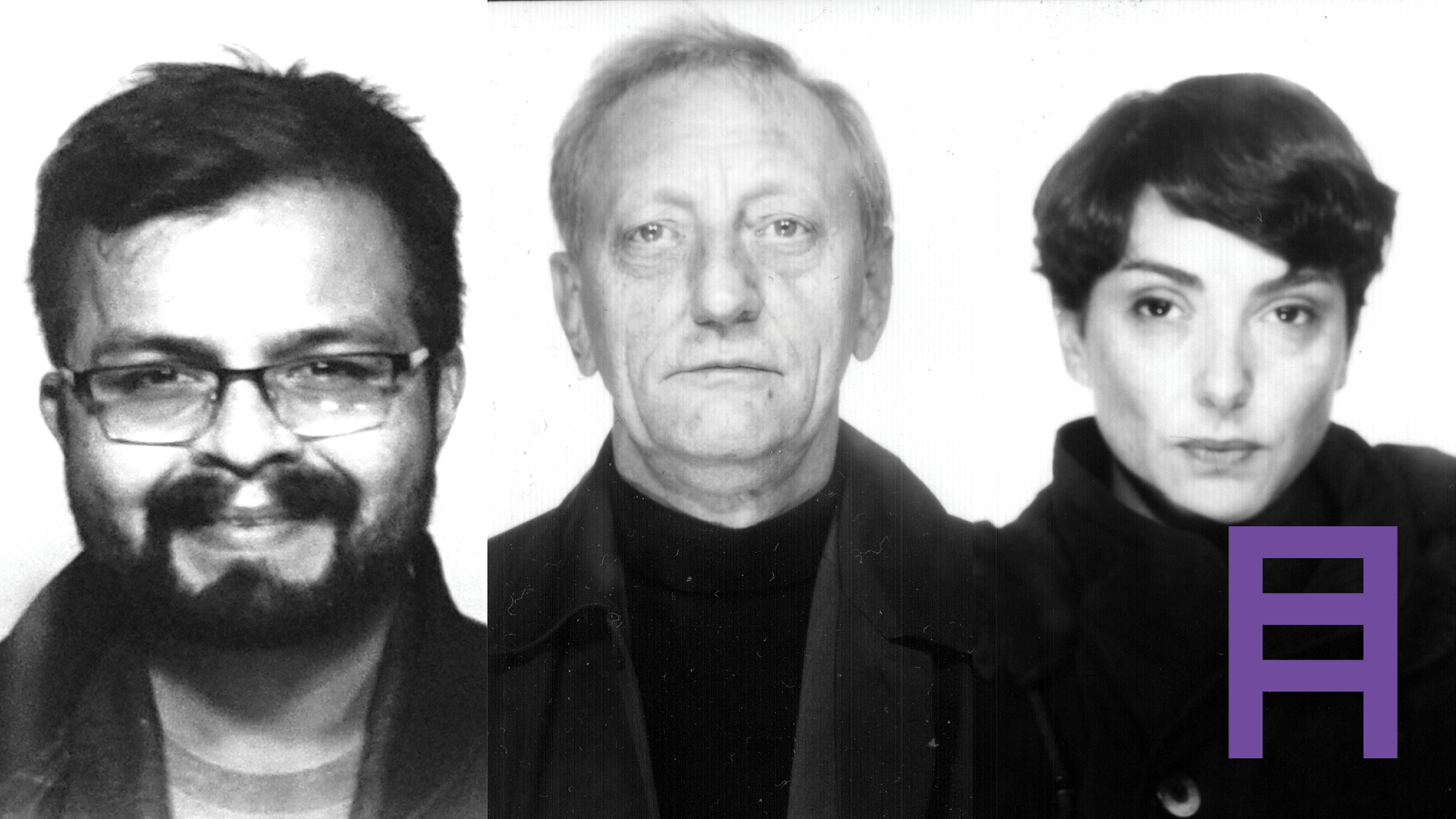 L to R: Samaquias Lorta, Jochen Arbeit, Eli Ningú
Today meet our October mentees Samaquias Lorta and Eli Ningú who have been mentored by Jochen Arbeit [Die Haut, Einstürzende Neubauten] this month! Treat your ears and listen to the tracks they've been producing during the residency. Below is a ping-pong interview between the interdisciplinary artist and the sound-artist & sound-poet respectively.
Samaquias Lorta
… Through a nomadic lifestyle and submersion into interdisciplinary arts, Samaquias has developed a vision of challenging performance techniques. Starting at age 10 with cello studies within public schools, Lorta has continuously engaged in diverse ensembles such as jazz bands, orchestra, musical theater, color guard, choirs, and chamber ensembles competing in orchestral environments in the Pacific Northwest, USA. His first summer touring as a dancer with a professional marching band out of Seattle was in 2010 in which he continued to perform with elite ensembles such as the Cavaliers Drum and Bugle Corp based out of Chicago in 2014.
Samaquias continues to engage music with an academic approach influenced by his young start to a professional career as a teacher of cello, music composition, and dance in countries such as the USA, Nicaragua, Colombia, Austria, and Germany. This translates directly to his goal of combining traditional music and electronic music during a performance setting.
Because of the environmental influences of living in a highland mountain dessert, being raised in a small Mexican immigrant town, and spending a large amount of time traveling abroad within nature influenced communities there is a folktronica influence to his performances that reflect that importance of nature in our community and personable well being. There is a strong understanding of harmonic control and development in the ambiances that he creates which enables him to bring tension, anger, beauty, spirituality and a vast array of emotions while keeping field recording and sampling at the forefront of the sonic experience.
Eli Ningú
… (Barcelona) works at the intersections and invisible transversalities between music, noise, synth and text. Musician, sound-artist and sound-poet, she can be found at the free improvisation scene of Berlin while developing her other solo projects.
EN: What is your creative process?
SL: I don't have a strict creative ritual or process when working but there are tools I use to allow my creative mind fluidity when performing or producing. I tend to start with a conceptual idea such as politics or ecological thought, or I find a tool I'd like to explore such as a sound design technique. From there I develop my sound palette, which is either particular scales/harmonies or instrumentation. Through improvisation these two elements start to take form. After a couple of sessions I start to formulate concrete patterns or ideas I want to stick with. Otherwise I love the improvisation aspect to my process, it allows for happy accidents.
EN: What do you think will be the reality of the US in the next months?
SL: This is exhausting trying to think about but I do feel no matter what happens there will be some sort of chaos from extremists in the US. I do hope that Trump's reign ends. It is especially destructive to minority communities and the division between political ideas has grown more prevalent with the current administration. I moved to Germany right after the election in 2016, if that says anything. But the reality is that there is a majority of Americans who are conservative. It's part of our responsibility as artists to help expand everyone's thinking, I am hopeful that the pendulum will soon again swing to progressive thinking. We need it to save this planet.
EN: At what time do you wake up in the morning?
SL: When I was a kiddo, maybe age 6 to 20 I would generally wake up quite early. 7 in the morning is so nice, I love the silence and morning dew. Sunrise feels very special, there is a purity to it and I love having the time to myself. As I have gotten older, let's say the last couple years, I have begun to wake up a bit later. I think it's because I don't arrive home until late and need to finish productions towards the evening. I guess it's that adult stereotype where sleep starts to become more precious. And since I have moved to Europe I have grown dependent on coffee, so I look quite ugly and exhausted around 7 to 9 am. I predict in 20 or 30 years I will become like I was at age 7. Waking early to the magical morning flow.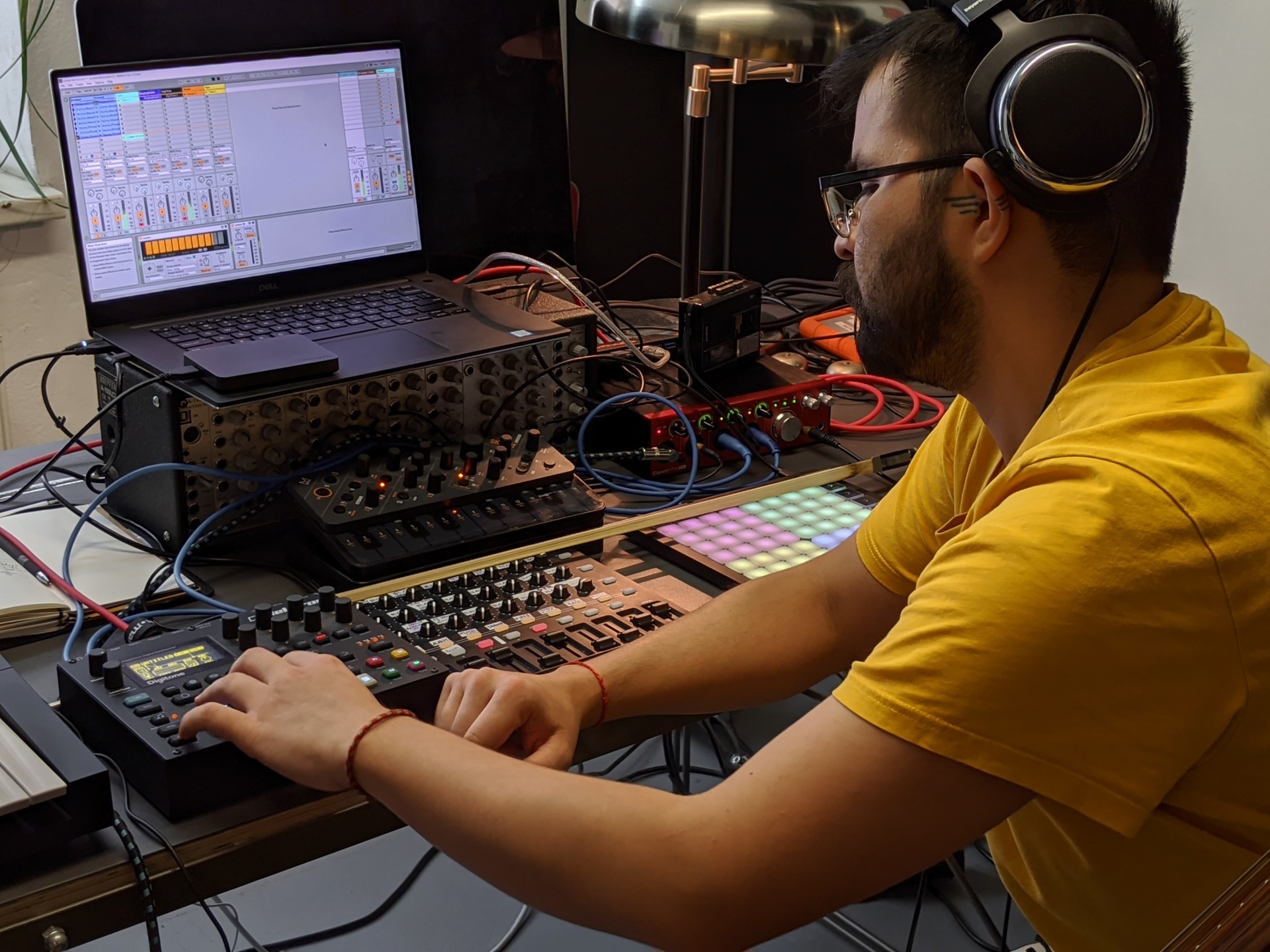 SL: What artistic goals do you have in the next year?
EN: Due to the current situation it is definitely very difficult to predict or think about any goal in particular in a short or mid-long term. Also you know what they say: that when you talk much about things that you would like to but did not happen yet, the chances that it might not happen increases and, being not a matter of superstition but a matter of experience, I believe a little bit in that too. In general, it will be necessary first to see what the future brings under this new and complex reality. If things allow me to do so, I would like to keep working on my solo project (the one I worked on and presented in this residency). I also would like to keep playing spontaneous free improvisation gigs. This kind of approach to music brings so much joy and positive energy to my life and somehow helps me to balance other aspects of myself that I reflect in my solo project. It would be so sad and a disaster if musicians are not allowed to play anymore in those kind of spaces — where all kind of experiments and risks are taken. They are so important for the developing of new musical aesthetics, as they used to do before. It is very important, I think, to preserve the life of music and arts that happens any day, at any time in real time and live. I have another thing in mind too, related with sound-poetry but, as said, I prefer not to talk about until I know for sure it will happen and I have no idea if it will.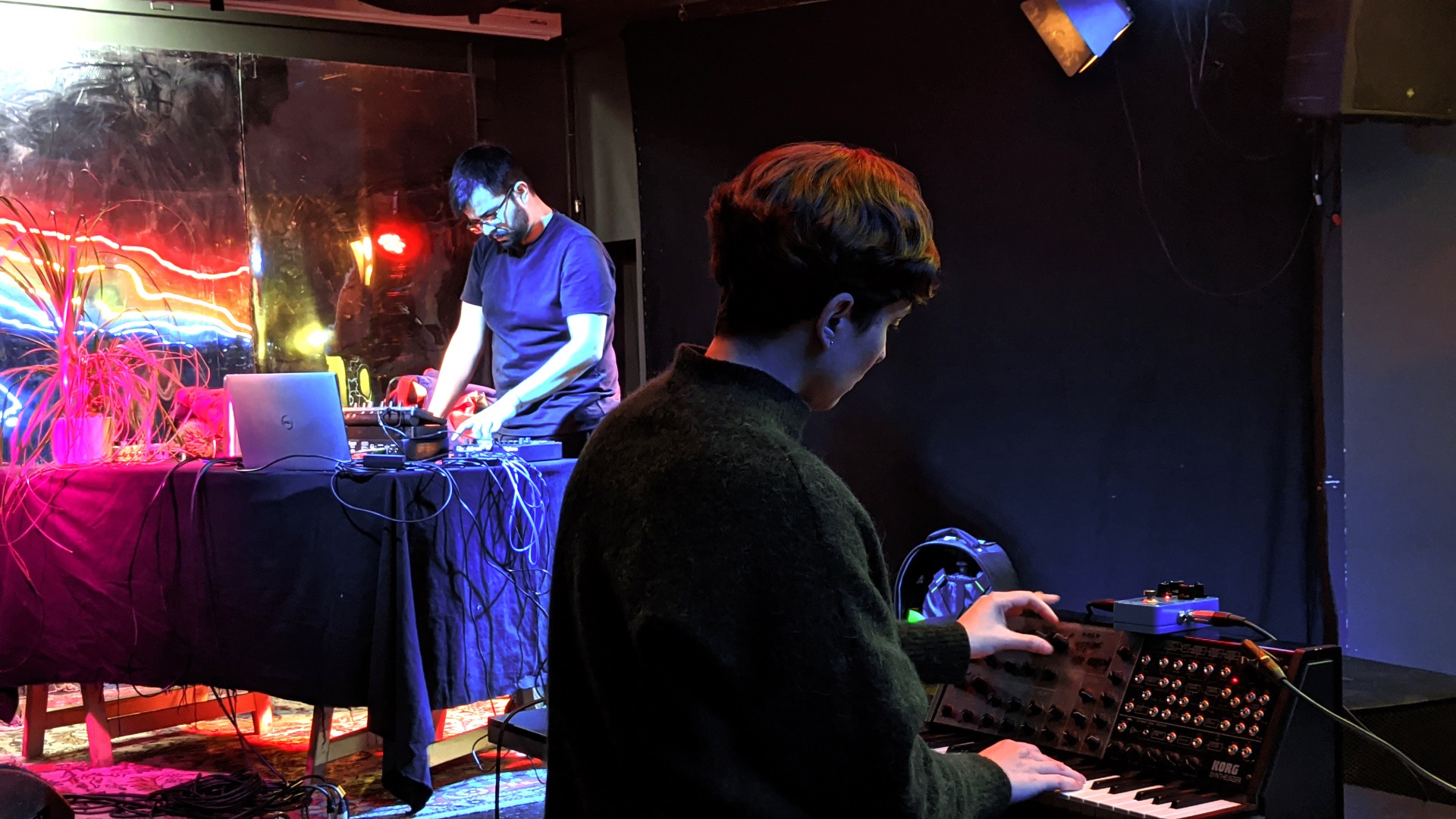 SL: What are your hobbies outside professional work?
EN: I am an absolute cinephile, I love books and art too. On that respect, I guess I am a little bit of a nerd in the sense that I can really spend hours talking about music, films, books, art and everything that has to do with it. It has always been a passion but, not only this, also it has saved my life many times. And, again, in moments of lockdowns and solitude, we all have the chance to see to which point it can help us to deal with uncomfortable realities and understand the great importance of it, being aware that there is always someone, people behind it that took the time to do it and bring it to the world for us. I also love travelling (when it is possible). The idea of the travel and the figure of the traveller who makes a journey meeting people with whom to share similar path for a while has been always very present in my life, I cannot say why. But, definitely, the exercise of travelling should be mandatory to experience from one's point of view, to be able of seeing how propaganda in every of our countries work, what it is true and false from what we are told and, in general, to discover that -at the end- humans are not that different, that there are common things that we share and good people and bad people everywhere. If we cannot travel -as now- we can always take walks. Having a good chat (and good chat means avoiding arrogance and pedantry) with a nice wine is, no doubt, one of my favorite hobbies too. And I would love to learn how to cook properly but I never find the time nor the patience for it.
SL: What is an embarrassing moment that you now laugh at?
EN: Many years ago I was living in Rome and working at an ice-cream shop just in front of the Fontana di Trevi. One night, I decided to dive into the fountain screaming 'Marcello! Marcello!'. That was embarrassing, I guess, for obvious reasons.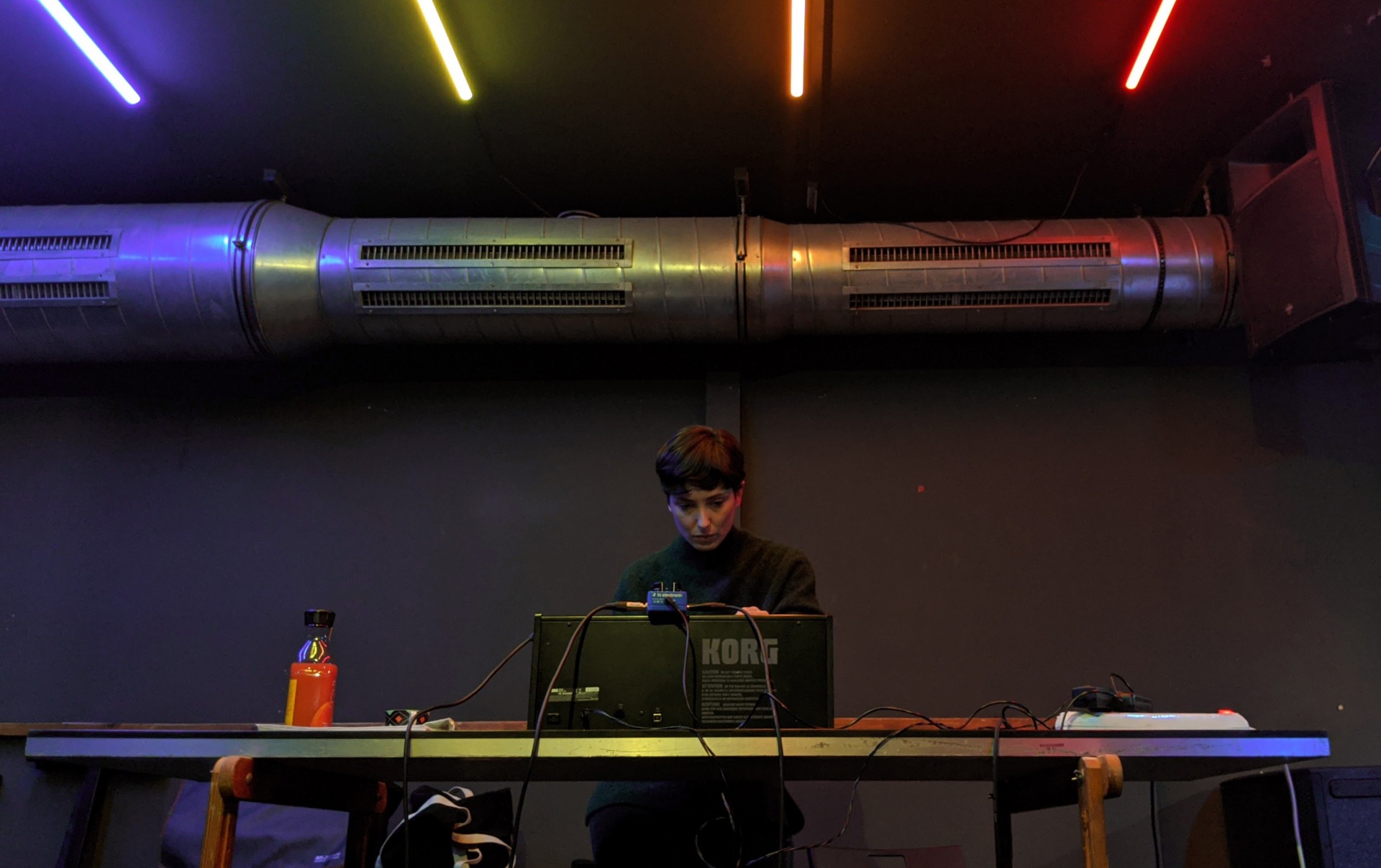 Applications for the second part of Amplify Berlin's fifth semester (January – February 2021) are open until November 15, 2020 at 23:59. Be our next resident!