Meet the two February residents of Amplify Berlin: Pauline Canavesio (aka Bora) and Molly Gunn (aka Nancy Drone). And listen to the tracks they have been working on this month together with their mentor Ziúr. The two will present their new live sets this Thursday at ACUD Club. Ziúr will play a live set.
Pauline Canavesio aka BORA is a France-born Berlin based multidimensional producer and artist. Through an introspection involving sound, digital and painting, she morphs to become one emotional entity, where sound is shaping the unknown and inexpressible. Her universe is an immersion into an organic process, where you can hear a human being and its inner body and mental fluctuations. BORA is a ritual, an attempt on existence.
Molly Gunn is an electronic musician based in Berlin recording and performing under the moniker Nancy Drone. Originally hailing from Pittsburgh, Pennsylvania, she's constructed an aural fantasy of swirling ambience, arachnid techno mutations and shards of percussive mayhem. Through collapsing structures and textural explorations, an amorphous bond between emotion and chaos is born.
What were your expectations when you applied for Amplify? Would you say these expectations were met?
Pauline Canavesio: I did not have any concrete expectations, but I wanted to open a new door and find new spaces to create. As I mainly work alone it can be tricky to have a clear perception of your work, so I was looking for an external viewpoint – to go out of my shell with my sounds, and to allow someone to enter my intimacy.
The application was written in a deep intriguing way, so the application process alone was important to me as it really made me reflect.
The team at acud has been very warm and supportive, and the 24-7 studio access made me feel free with my workflow. It's really good to have a proper studio to work in – it opened a new creative process for me. I got to try out some of its hardware, and as Ive worked a lot digitally, it was interesting to discover and dive in to analogue sounds.
I normally remain in my own headspace but through the residency, I got to have a concrete approach to what I do. It was healthy to reflect upon my past and current way of creating my sounds.
Molly Gunn: I've never done a residency program before, so I wasn't sure what to expect! But I think I had a general want to learn just about anything. I expected to make new material, play with sounds and get a sort of fire going. The winter had me feeling really stifled, so this came at a great time to get the gears moving again. It was a good balance of experimentation and intention. I'm grateful for the motivation and opportunity and feel I utilized the atmosphere of the residency to grow a lot in this short time.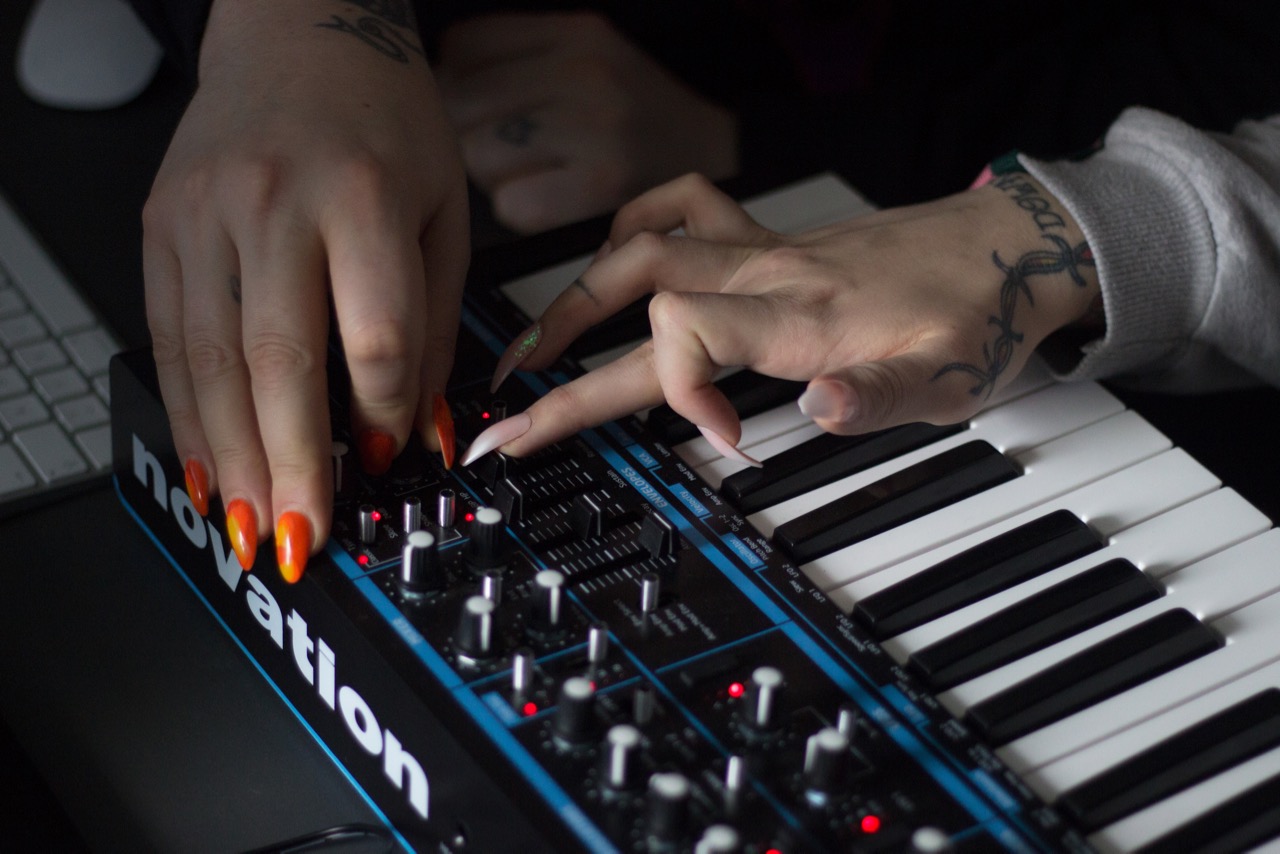 How has your residency gone so far? Any highlights?
Pauline: It all went so fast. We straight away got introduced to the studio and everyone in the team which allowed us to start creating immediately.
It's been inspiring. I tried to stay emotionally connected while also learning to let go more and more. The studio space became a new start for me. It allowed a new inspiration and perspective to come into existence.
One highlight for me was the cdj workshop that Mika lead in the acud club. I always wanted to dive into djing, so it was really exciting to practice in the daytime when you're fresh and have no pressure. It was really fun, and it has now awoken my desire to go deeper into it.
Molly: It's been a great experience working with everyone involved in the program. There are loads of knowledgeable people about so many aspects about what goes into this side of the music industry, the organizing and sound engineers, everything. I loved having a designated workspace so I could get things done, I can be easily distracted sometimes. Also, it was a very comfortable atmosphere to be in. That felt lucky and great, just being able to be myself. Nothing felt like work, it was all just fun. Not only did we get access to a stacked studio and strong resources, but also the CDJ workshops were a blast.
How was working with a mentor? Is there something in particular that you have learned during the residency?
Pauline: It's surprisingly challenging – to get to share a small space with someone that you don't know personally at first. By staying myself and being natural, it could work smoothly. It's interesting to meet another artist and see their approach to sound. It also felt important to eventually be able to connect to my mentor on a personal level.
Mika is an intriguing character, and to be able to share my artistic process with her, really pushed me to feel more confident. We straight away understood each other in an artistic way, which was why she was able to help me make my sounds blossom without interfering with my expression.
An important lesson was to find more balance in the way that I observe my own work. What I realized was that my own doubts do not apply to the external perception of the sound, and Mika was able to confront me and make me question what I really want.
Molly: It was great to get honest feedback from someone who isn't familiar with my sound. It taught me to come out of my shell a bit when talking about my intentions with my work. I'm normally so in my head and solo with my writing that it can be hard to break out of that and make space for new ideas. But to use my words to explain things and not just be stuck in my thoughts was helpful to make solutions tangible. I learned the importance of a clean and deliberate sound, and ways to make them hit harder and move with more force. All these techniques that Mika taught me gave my sound a much stronger presence overall and tied together all the layers of my work in a uniform way that I didn't know how to achieve before.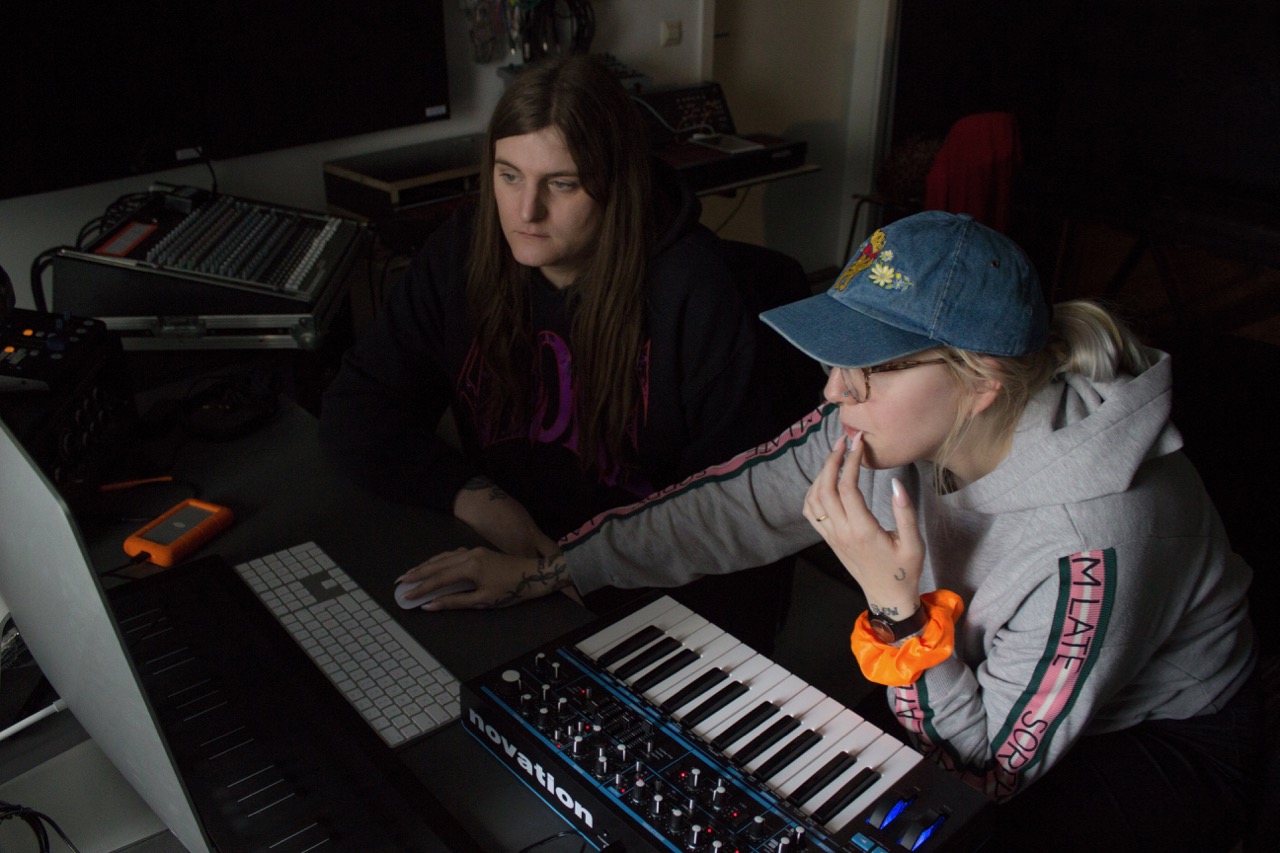 What can people expect from you at the showcase concert?
Pauline: It's hard to say as I never put any expectations on my upcoming performances. You never know how you will feel on the day. But the only hope I really have is that the people who come will feel.
Molly: I think people can expect to hear some new material, polyrhythmic beats, and hopefully not catch me making faces at my own mistakes. I've gained a fair bit of confidence through this process I think.
What are your plans for the future?
Pauline: The time at the residency has been intense so first plan is to relax and digest all the impressions and experiences.
My eternal aim, with my work as well as with my life, is to remain present, which is to say, remain honest to myself and to my surroundings.
Whatever comes next, I just want to continue surfing on whichever life waves come and go.
Molly: I'm going to capitalize on this new work routine I've developed this month and hold myself accountable for making progress with new material. I feel like I'm on a roll now and just want to keep producing sounds. So hopefully that leads to more releases, digital or otherwise, with small labels whose motivations and rosters I look up to. And definitely playing more live shows. I'm traveling back to America in May and have an opportunity to play out with CDJs, so I'll put those lessons to good use!