We had the great opportunity to speak with the three curators of COLLECTIVE PRACTICES, Andrea Goetzke, Inga Seidler & Daniela Silvestrin. COLLECTIVE PRACTICES is a new series starting for now online but which will examine "collective practice" as it relates to artistic creation, cultural organizing and social coexistence.
Hi Inga, Daniela & Andrea, we're happy to meet the core team of COLLECTIVE PRACTICES and learn more about the project. To Start, tell us about yourselves!
Our team has grown organically. First, Inga and Daniela had the initial idea of a programme on Collective Practices. Then, Andrea was thinking in similar directions and joined the team a little later. Olga, Wayra and Julie came on board with the start of the project, after we obtained the funding.
Overall, we are a team of cultural producers and curators. The three curators of us have a background in digital culture in one way or the other. Inga and Daniela are coming more from an arts background, while Andrea has more pop-cultural and music influences. Olga supports the team as curatorial assistant and works on the production of the program. Coming as well from an arts background, she brings her various experiences of festival production to coordinating artist residency programs to the team.
We had met through common friends in Berlin social life .. and then found each other for this project in a joint interest to create a hospitable space for different kinds of people to meet and discuss.
Inga: During the past years working as a curator for festivals and exhibitions and as a coordinator of an artist in residency program, there already was a strong interest in formats that allow for a certain kind of collectivity, and emergence. For me, the project arose out of thinking about curatorial practice, the selection processes, the gatekeeper function, and the question of how to pry it open, lever it out, and on the other hand make it more open and polyphonic. And also from the idea of using the ACMN with its history and already many different actors involved as a place for exactly such experiments.
Daniela: I am a curator, cultural researcher, and organizer-facilitator based in Berlin. In the past years I have been working on the conception and production of different festivals, exhibitions, research and publication projects. The focus of my work revolves around the exploration of hybrid artistic practices and knowledge production at the intersection of art, society and the techno-sciences; I have always been particularly interested in practices and approaches that critically address, explore and question physical, ethical, social and geographical boundaries and paradigms from an artistic perspective. My research thus engages with fictions and narratives to explore how complex socio-technical systems are imagined, built, and used.
Andrea: I really like ACUD as a cultural space – and having organized parts of music and discourse programmes there over the past years – I have always wanted to do a longer series, that people can return to, that is more political, and that has a potential to create community. Creating spaces for people to meet each other and to be inspired is what I enjoy most, and I love to be a host. Serendipitous moments, when the expression of a person sparks something in you, or when the interaction of people brings a moment or a topic to a whole other level – are the spices in life to me. The topic of experimenting with and getting better at practicing collectivity resonated a lot with me when I joined the team, for one as I think it's a very urgent one, and then shifting the focus from the individual towards the collective has been a key thread throughout my practice.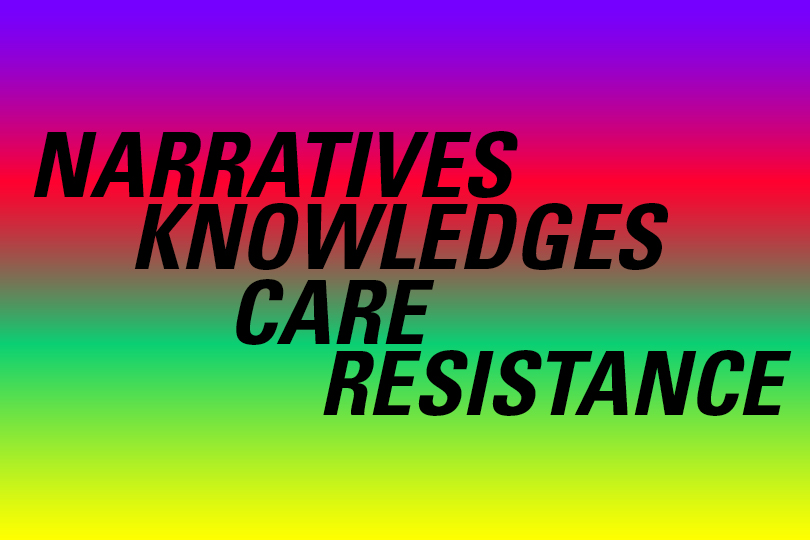 #NARRATIVES / #KNOWLEDGES / #CARE / #RESISTANCE are the four thematic explorations of the project. You have the idea to interweave them right? Explain us your topic choices.
Daniela: With COLLECTIVE PRACTICES we aim to address and explore a broad field of practices, methods and questions related to forms of collectivity, multiple authorship, social living and working together. By structuring the programme into these 4 sub-themes, called "explorations", we want to focus on elements and questions that seemed to be particularly relevant to us within the broader theme. We see these 4 thematic explorations as a tool to address more specific questions and aspects within the general discussions, or highlight particular points of view or reference that seemed particularly interesting or significant to us — but we do not consider the explorations as self-contained or conclusive categories: most of the projects, participants and subjects presented within the programme of COLLECTIVE PRACTICES connect to more than one thematic exploration. Methodically, each of the explorations will experiment with practices from the spheres of physical/sensory, imaginative/discursive, organizational/activist.
Inga: The four thematic explorations evolve around discourses that closely connect to the topic of collectivity. Initially we wanted to use them to structure the program, and also to use them as lenses to look at various kinds of practices — not only from the arts / cultural fields.
And by this being able to move towards practices that enable a form of togetherness that is not avoiding differences and conflicts.
Begin for now online, your goal is to observe initiatives that engage in "collective practice", finding additional participants, and reformatting the program. How will you proceed in this investigation?
Andrea: There are several aspects that we are looking into right now. For one – a key component of the original programme is hospitality, and bringing people together, to interact with each other in physical space. How can we transfer some of that hospitality, and help create meaningful connections between people in the digital space? How can we also include embodied components? And then – in addition to transforming our initial programme ideas to smaller workshops that can be either held online or at a distance in a room, we are also looking into making the programme relevant to the current situation. How can we organize in the current moment? What can we learn from collective initiatives of solidarity that have come up in in several places in response to the covid situation? Which new collective initiatives do we want to set up? And what do we aim to discuss and understand regarding our social coexistence and cultural collective practice from this special period also for post-corona times?
Daniela: We chose the theme not only as a thematic focus, but also as a conceptual one: the curation process itself is fundamentally understood as a collective practice. Thus, despite the unexpected developments due to the pandemic shut down, and the according adjustments we had to make for the start of the program, the core of our investigation and idea of collaboratively creating the programme has not changed. Most of the participants we were already in contact with to present their work and organize events with do very relevant research in view of the questions we are confronted with in the current crisis. We will continue to work with these people, of course, but also watch and research how other groups and collective efforts develop or expand in the current situation. The restrictions everyone is experiencing now will allow for new experiments with various forms of opening up the programme beyond the curatorial group and the involvement of people and networks from different backgrounds – in the city as well as internationally, becoming part of the learning process of COLLECTIVE PRACTICES.
Field journalists are talking to us on a selfie mode + mask on, we are discovering our colleagues' interior through video meetings. How are you personally living this self-isolation experience?
Andrea: As a team, we are getting together via video meeting about twice per week. Which works quite well. Personally, I'm isolating together with my friend and his son, mostly meeting up every day to cook dinner together. I'm enjoying nature and the plants on my balcony. I am of course very sad to cancel all the gatherings I had planned and was very much looking forward to .. in this project and others. My life hadn't felt so promising in a long time at the beginning of 2020 .. and then, well .. Above I mentioned serendipitous encounters – this is something that I feel is missing a lot in this period. However, I have also noticed in the past weeks how much I was caught up in a constantly spinning wheel of activities .. I think this taking time to reflect, to think about what's important, or just leaving some space .. is something I'd like to continue also after this period. I worry about how the situation affects people and societies all over, being in a privileged situation myself. I hope that with our programme we can make a little useful contribution in these times.
Inga: Mostly, I am with Andrea on this — I find myself observing different forms of self optimization and hectic productivity as a response to the current situation. While I myself felt quite overwhelmed or paralyzed, on a personal as well as on a professional level. Rather than adapting to the new situation as quickly as possible, I also felt — and still feel — the need to reconsider and reflect. Amongst many other things, this of course also concerns current jobs and projects, whether considering the consequences for an artist in residency program, or starting a new funded program series at ACMN. This also leads to thinking about the material circumstances in the formulation of collectivity.
Daniela: For me personally, there are 2 opposite and oscillating sides of experiencing the current situation, turning it into a bit of a schizophrenic one at times. On the one hand, as a freelancer and independent curator and cultural manager I am used to working from home most of the time and doing most of the exchange online. Home office and virtual communication is "business as usual" for me, and even though I've also always been struggling a bit with finding the right work-life-balance here, I am now glad that I don't experience the self-isolation as a big obstacle. On the other hand, an essential part and reason why I love my work (and Berlin) is the physical immersion, personal meeting and exchange with artists, researchers and audience members of the events I organize or take part in as audience. Here, the sudden imposition of self-isolation and physical distancing is rather difficult for me. My days oscillate between moments of feeling lost and worried about the future developments and implications of the lock down for the free arts scene in Berlin, and moments of enjoying the sudden freedom and additional time because of not having to rush to appointments or events (no FOMO)..
Make us dream about the come back to normal social life, how do you imagine the first COLLECTIVE PRACTICES in-person event?
Andrea: We are thinking to start with small group workshops, that we can organize in the ACUD studio in person while keeping a distance. If possible, we'd like to do as much as we can in person and physical space, being present with each other. And then ideally, we would like to cook dinners and dance together .. not sure this will be possible, but if you ask us to dream, this is how I would see it.
Daniela: Once we can organize actual events again, we plan to start with small workshops, readings, maybe performances and other types of events which are easily sizable. We all realized how important it is at the moment to stay flexible, and to work with digital platforms not only as an emergency tool but rather develop the programme structure in accordance with and incorporating digital formats since the beginning. During the past 4 weeks we have seen many ways and experiments of how this can be done — some of them working better, others maybe less… Certain formats do simply not work well as a live stream, and the challenge for us will be to find a good balance between starting with small events with small audiences at ACUD, while combining and interweaving them with digital formats as well.
Inga: I am afraid that at this point I can only give a rather pessimistic answer.. It´s hard to imagine in-person events as we have planned them happening in 2020. Also considering that we as organizers have a responsibility for our team, participants and guests. It might be more important to with time find ways of responding to this new normal, and to think about how energies and new insights can be used to rethink and approach some of the unjust conditions and circumstances of "normal life".
GET INVOLVED!
In the coming weeks/months, we would like to use the available resources to include and reward current artistic contributions, practical experiences and theoretical reflections on "collective practice", especially in relation to the current situation. Feel free to contact us if you are working on something that might be relevant for, or connects to COLLECTIVE PRACTICES, or just want to start a dialogue about possible approaches, themes or practices: collective.practices@acudmachtneu.de.
This program is curated by Andrea Goetzke, Inga Seidler and Daniela Silvestrin and is made possible by support from Hauptstadtkulturfonds.