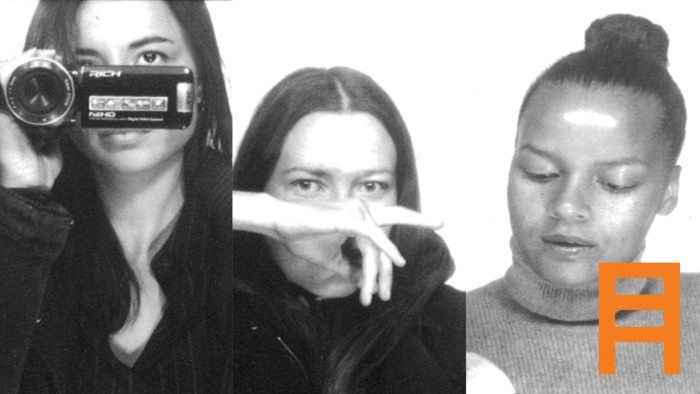 L to R: Sara Persico, Lucy Railton, Cecilia Tosh
Pleased to reveal to you today 'No Blank' by Cecilia Tosh & 'Dreamwork' by Sara Persico, the two tracks born from their residency with cellist Lucy Railton. Once again a pleasure to have three talented artists sharing their love for music. The two April Mentees have been interviewing each other in the conversation below. Treat your ears & learn more about them.
Cecilia Tosh is co-founder of the collective SEV Berlin, a powerful network that supports newcomer DJs and producers in club culture since 2018. She is DJ and Producer and beside Berlin venues such as Wilde Renate, Kater Blau, Sisyphos and HÖR Berlin, she performed in several clubs and festivals in the UK, France, Hungary, Poland and Israel. "Schienenersatzverkehr" is her own event series at Golden Gate Berlin and her debut EP "Run with the wolves" has just been released on her freshly baked independent label SEV Records.
Sara Persico (1993, Naples) is an Italian sound artist, performer and video-maker. She channels her energy in the research of the voice and sound, diving into multiple instrument possibilities and radical improvisation practices through electronics. Her interest and research include a strong visual approach in her impulsive performances.Sara holds a BA from the Conservatory of Napoli and a Master's Degree from the Conservatory of Bologna. In November 2018 she has been selected for the Temp Studio multimedia residency in Lisbon (PT), where she presented her solo performance 7ST for voice, electronics and screening of videos. Among her collaborations, the performance GOLD directed by Francesca Grilli premiered at 40° sopra la Performance and Santarcangelo Festival in 2018. In 2019 the duowith Ignacio Córdoba debuted with a tour in Germany and Poland, while in May 2020 they released their first album for the Italian label Luminance Records. Her composition Superficie has been exhibited at Fondazione Sassi in Matera (IT). She released the album Ruh in October 2020 in collaboration with Melih Sarigöl for the label Base Materialism (Newcastle).Sara presented her work during several tours in Europe; she performed in venues and festivals such as Bologna Elettrica, Discomfort Dispatch, Geografie del Suono, Multiversal, Bologna Jazz Festival, Napoli Teatro Festival, Santarcangelo Festival, Damas Lisboa, MultiMadeira, Zaratan Arte Contemporanea, O Salgado Faz Anos Fest, Vorspiel, Radical DB, among others.
Sara Persico: You told me a little about your project SEV. What does it represent in your life?
Cecilia Tosh: The collective and label SEV Berlin is sort of my first child. Thanks to this project, I know what it's like to grow beyond your own personal passion. With the motivation to motivate other people in believing in themselves and following their heart. We in the collective are a small family, it is very special for all of us. : )
SEV Berlin
SP: If you'd have to pick one, what's your favorite fruit and season?
CT:I love persimmon and definitely love late spring.
SP: Regarding your new work on Kottbusser Tor: how would you like to develop it in the next future?
CT: I'm going to do more auditory captures of the Kotti. I now know more precisely what I'm still missing in terms of recordings. It quite probably comes out to be a concept album. The track created in Amplify is a suitably teaser, for the soundscapes that are yet to come. I'm looking forward to the process. It's a very emotional and wild project for me! : )
CT: When was the moment you decided to make music a (or the) focus of your life? Am I right about that at all?
SP: Yes, you're right. Somehow I always knew that music would have been the focus of my life and felt lucky for that. But In the last few years I've been questioning myself whether it was the right decision to make it my "only" focus; I decided that it wasn't a good idea and started expanding my interests making videos and working as a camera-woman for other people. Having different focuses helps me to keep my mind balanced.
CT: What is a learning that you would like to gain? And why is it important to you?
SP: In this moment I'm learning how to mix my music. In everything I study is important to take care of the details, and the synthesize them into my creative process.
CT: Where do you want to spend your time this summer?
SP: Good question! it's difficult to plan during these times, but I will certainly spend at least one month in Napoli with my family. And for the rest I want to be at the sea as much as possible.
RADIO MIX