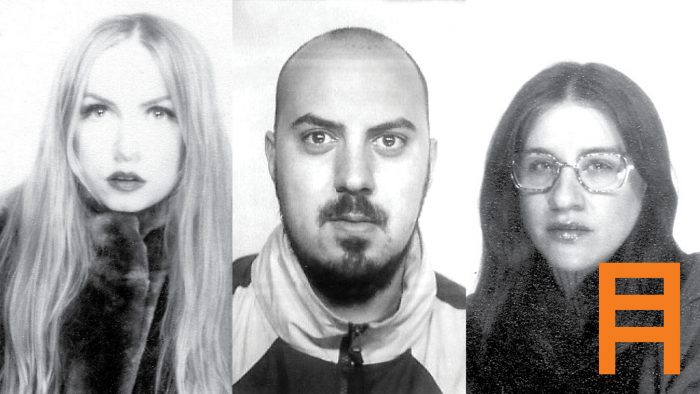 L to R: Lucca, Shapednoise, Felisha Ledesma
Today meet May mentees Lucca & Felisha Ledesma in a ping-pong interview. The two emerging musicians spent a month in the Amplify studio mentored by experimental electronic producer Shapednoise. Listen below to their residency tracks 'Poison' & 'Room13'. Enjoy!
Lucca is a singer, songwriter and producer from Berlin. The main element in her alternative pop productions is her angelic broken voice that she uses to build dark soundscapes. With vocal layers, simplistic piano patterns and electronic elements she takes listeners on deeply emotional journeys through her melancholic world.
She has had appearances in local clubs and Berlins famous cabaret theater (BKA) and has recently released her haunting self-produced debut track "Valerie".
Felisha Ledesma is a multi-disciplinary artist currently based in Berlin, GER. In January 2021, Ledesma's first full-length release on Psychic Liberation x Enmossed arrived after much experience in creating collaborative works, site-specific installations, and high-profile festival performances.
Over the past decade, Ledesma co-founded, directed, and supported various organizations focused on experimental sound and community engagement such as the Synth Library in Portland, OR, a lending library for electronic music equipment. Most recently Felisha co-founded Fors (fors.fm), creating "novel instruments that are elegant to use and adventurous in sound" in collaboration with Ess Mattisson and is studying sonic arts at Universität der Künste, Berlin.
FL: Your voice is really the driving force in your sound, what are some of the new/exciting ways you have been able to utilize it in your production?
L: I have been manipulating my voice in new ways to create specific moods and also have been creating many many vocal layers in my new songs to build satisfying harmonies.
FL: Have you learned anything during the residency that you will take with you?
L: I have learned how to translate my ideas into sounds and what specific tech I have to use for that. The residency prepared me well for my next steps.
FL: I know you've been working on so much music this month, when will we get a full release (or maybe tell us what's next for you)?
L: My next step will be producing an EP. I have collected a lot of material during the residency that I will now shape into a bigger project. I will take my time to create something I truly love, so there is no release date yet. But I will meanwhile share individual songs and collaborations with artists from different disciplines.
L: What was the last thing you taught yourself?
FL: Perfecting a fresh herb dressing (I have come a long way).
L: If you were to write a soundtrack for a movie, what kind of movie would it be?
FL: Something themeless, free-floating and a little psychedelic.
L: Is there another art form that you would like to pick up? If so, would you do it separately or combined with music?
FL: I am working on ways to incorporate scent into my practice..I have been taking classes and slowly working on blends. Ideally I would present sensory performance or a release with sound/scent, but I am trying not to overthink things at the moment which is a new lesson for me. Let's see what happens!