Roundtable with the artists. Introduction into the project and open discussion, moderated by Jean Kamba.
The format is conceived as a retrospective that highlights and presents the history of the contemporary art scene in Kinshasa from the perspective of theorists and contemporary artists. A moment of exchange that makes it possible to simultaneously engage with the present of this scene and speculate on its future within the framework of Laboratoire Kontempo. Many cultural platforms in Kinshasa were founded by artists to fill the void of a state cultural policy. These self-organised structures with their strengths and weaknesses, their contribution in Congolese society and on an international level will be presented, while also addressing funding problems, colonial traces and neo-colonial influences.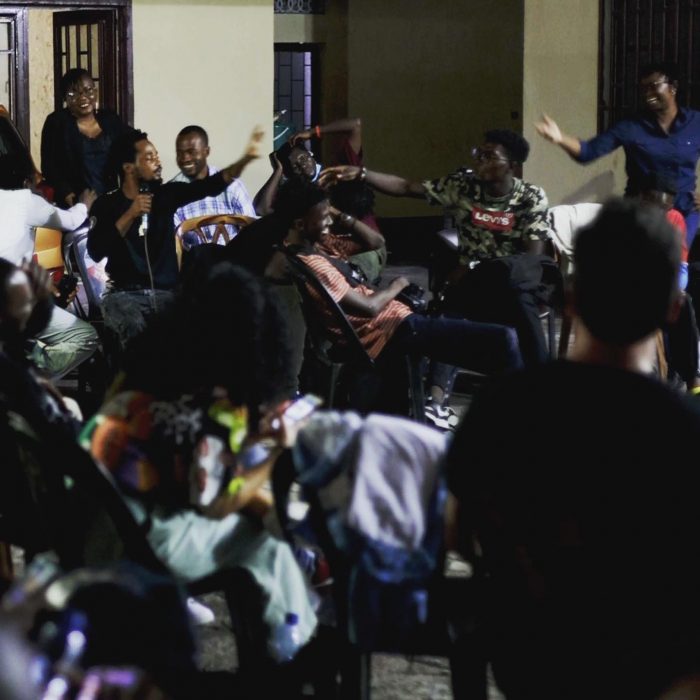 Kontempo: Zeitgenössische Perspektiven aus Kinshasa
Roundtable mit den Künstler*innen. Einführung in das Projekt und offene Diskussion, moderiert von Jean Kamba.
ACUD Studio – Eintritt frei – Beginn 19 Uhr
Das Format ist als Retrospektive gedacht, die Geschichte der zeitgenössischen Kunstszene in Kinshasa aus der Sicht von Theoretiker*Innen und zeitgenössischen Künstler*Innen beleuchtet und vorstellt.
Ein Moment des Austauschs, der es gleichzeitig ermöglicht, sich mit der Gegenwart dieser Szene auseinanderzusetzen, und gleichzeitig im Rahmen von Laboratoire Kontempo über die Zukunft dieser Szene zu spekulieren. Viele kulturelle Plattformen in Kinshasa wurden von Künstler*Innen gegründet, um die Leere einer staatlichen Kulturpolitik zu füllen. Diese selbstorganisierten Strukturen mit ihren Stärken und Schwächen, ihrem Beitrag in der kongolesischen Gesellschaft und auf internationaler Ebene wird vorgestellt, wobei auch Finanzierungsprobleme, koloniale Spuren und neokoloniale Einflüsse angesprochen werden.