Haus der Statistik: Werkstatt - Admission free - Start 7 p.m.
Artist talk Prisca Tankwey, Paulvi Ngimbi
The artists Prisca Tankwey and Paulvi Ngimbi from Kinshasa present their artistic approach as a duo; a sculptural and conceptual approach and its location in the art scene of Kinshasa. They will also talk about the tension between academism and the independent art scene in Kinshasa and its influence on their own work: on the one hand as assistant professors at the Kinshasa Academy of Arts, which represents a very Eurocentric-classical understanding of art, and on the other hand as contemporary multimedia artists.
In this context, they will present the artistic strategies they use to deal with these contrasts.
Untitled (What a Crypton), presentation and artist talk with Gabriella Torres-Ferrer
Partagisme - a collective artistic practice from Kinshasa
Lecture about the history of Partagisme in Kinshasa by Jean Kamba and Mukenge/Schellhammer – collective painting, debate about collective work and authorship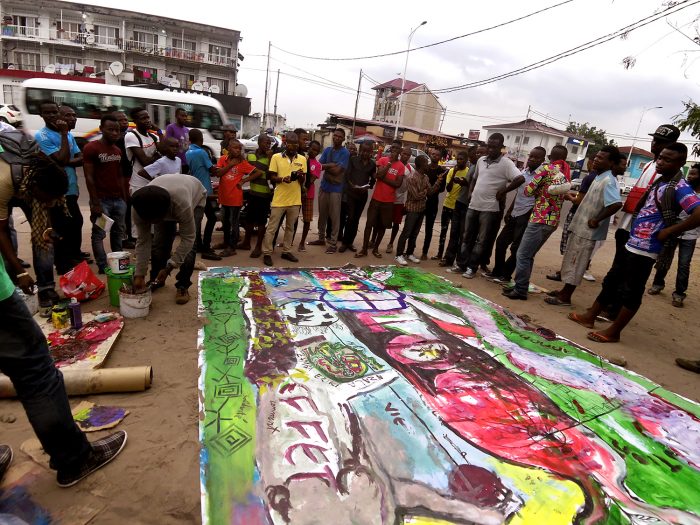 ------------------------------------------------------------------------------
Haus der Statistik: Werkstatt - Eintritt frei - Beginn 19 Uhr
Erweiterte künstlerische Strategien
Künstler*Innengespräch Prisca Tankwey, Paulvi Ngimbi
Die Künstler*Innen Prisca Tankwey und Paulvi Ngimbi aus Kinshasa stellen ihren künstlerischen Ansatz vor, den sie als Duo verfolgen; ein plastischer und konzeptueller Ansatz und dessen Verortung in der Kunstszene von Kinshasa. Sie sprechen ausserdem über das Spannungsverhältnis zwischen Akademismus und der freien Kunstszene in Kinshasa und dessen Einfluss auf ihre eigene Arbeit : Zum einen als Assistenz-Professor*innen an der Kunstakademie Kinshasa, die ein sehr eurozentrisch-klassisches Kunstverständnis vertritt,, zum anderen als zeitgenössische multimedia-Künstler*Innen.
In diesem Zusammenhang werden sie die künstlerischen Strategien vorstellen, die sie nutzen, um mit diesen Gegensätzen umzugehen.
Untitled (What a Crypton), presentation and artist talk with Gabriella Torres-Ferrer
Partagisme - eine kollektive künstlerische Praxis aus Kinshasa
Vortrag über die Geschichte des Partagisme in Kinshasa von Jean Kamba und Mukenge/Schellhammer – gemeinschaftliches Malen, Debatte über kollektives Arbeiten und Autorenschaft