ORIENTierungsplan
Erkan Affan
Radio / Podcast
in collaboration with Cashmere Radio
Episode #1: On European Gay Ethnic Porn: In Conversation with Emre Busse
Tune in on Friday, 28th August, 4pm on
cashmereradio.com and UKW 88.4 in Berlin, 90.7 Potsdam
In this very first episode of ORIENTierungsplan Emre Busse will be discussing the history of gay ethnic pornography in Europe. Beginning with the French films of the 1920s before moving on to the later films of Germany and the (mis)representation of Ex-Yugoslavian countries by western Europe, Emre provides us with a thorough analysis of the sociopolitics of porn and its subsequent representations of gender and race.
ORIENTierungsplan is a series of discussions that decentre Euro-American productions of knowledge as the norm of focus, instead opting to spotlight voices from a region regularly finding itself at the periphery of conversation: West Asia and North Africa (or MENA). Curated and chaired by Erkan Affan, ORIENTierungsplan is a monthly discussion in which activists, artists and researchers living in Berlin will be invited to speak on a field in which they organize, create and work; subverting Western discursive supremacy and instead focusing on alternative productions, analyses and pedagogies of #KNOWLEDGE.
The population of countries and societies belonging to the predominant Western world and culture has been summarized under the acronym WEIRD - "Western, Educated, Industrialized, Rich and Democratic"—however, the members of these WEIRD societies are among the least representative populations in the world in terms of numbers.
With its exploration called #KNOWLEDGES, the COLLECTIVE PRACTICES program puts its focus on practices that question and turn WEIRD paradigms upside down, break up and recombine them, bring together different cultural approaches to knowledge generation, and address questions such as (among others) how to critically question established hegemonic Western methods (primarily visual and discursively defined) and processes of knowledge production.
ABOUT
Emre Busse
... was born in Istanbul, Turkey and is based in Berlin, Germany. As a member of the Istanbul LGBTIQ+ Pride Committee, he took part in the organization of pride events between 2011- 2013. He completed his master's degree in Fine Arts Faculty of Bauhaus University - Weimar in 2015. In March 2017, he co-curated the exhibition called 'soft g -queer forms migrate' in Schwules Museum* Berlin (LGBT History Museum of Berlin) with the support of Berliner Senate. Emre co-directed numerous pornographic documentary films, such as 'Landlords - The Economics of SM Apartments in Berlin' and 'Hyper Masculinity on the Dancefloor' in collaboration with the Pornceptual collective. Emre Busse is currently working on his Ph.D. at the Freie University Berlin, focusing on gay 'ethnic' pornography in post-national Europe, for which he was awarded a prestigious doctoral fellowship from Hans-Böckler-Stiftung.
Erkan Affan
... is a queer curator and writer born in London, currently based in Berlin. With an academic background in "Middle Eastern" studies [BA, SOAS] and migration studies [MSc, UCL], Erkan's research has focused most notably on the intersections of sexuality, gender, migration and diasporic identity. Since moving to Berlin in 2019, Erkan completed a curatorial residency funded by the European Commission and co-founded Berlin-based collective Queer Arab Barty – curating social and political spaces in Berlin for LGBTQIA+ identifying individuals. Through their independent practice, Erkan has collaborated with a number of venues and organisations including the ICA in London, Haus der Kulturen der Welt and Die Kunste Werke in Berlin, and the IQMF in Amsterdam. Along with two others, Erkan will be guest curating for a season at the city landmark Baerenzwinger Berlin (located in Mitte) from Autumn 2020 until Spring 2021.
Instagram: erkan_affan
In the series COLLECTIVE PRACTICES spanning several months, Andrea Goetzke, Daniela Silvestrin, Inga Seidler and their team of cultural producers will examine "collective practice" as it relates to artistic creation, cultural organizing and social coexistence. Invited to this exploration are scientists, artists and researchers. Originally conceived as an experiment to gain more experience with the topic, the project is now caught up in a global pandemic in which our interdependence is becoming that much more evident. As the topic of "collective practices" has now taken on a whole new dimension and relevance, we are reformatting the program so that it can already begin online.
Since 2014 the initiative ACUD MACHT NEU operates three spaces at Kunsthaus ACUD. The aim is to offer room for discourse, exchange and experimental artistic formats. Further projects of Acud Macht Neu are: the artist development program Amplify and the discussion series Kapsel about science fiction literature from China.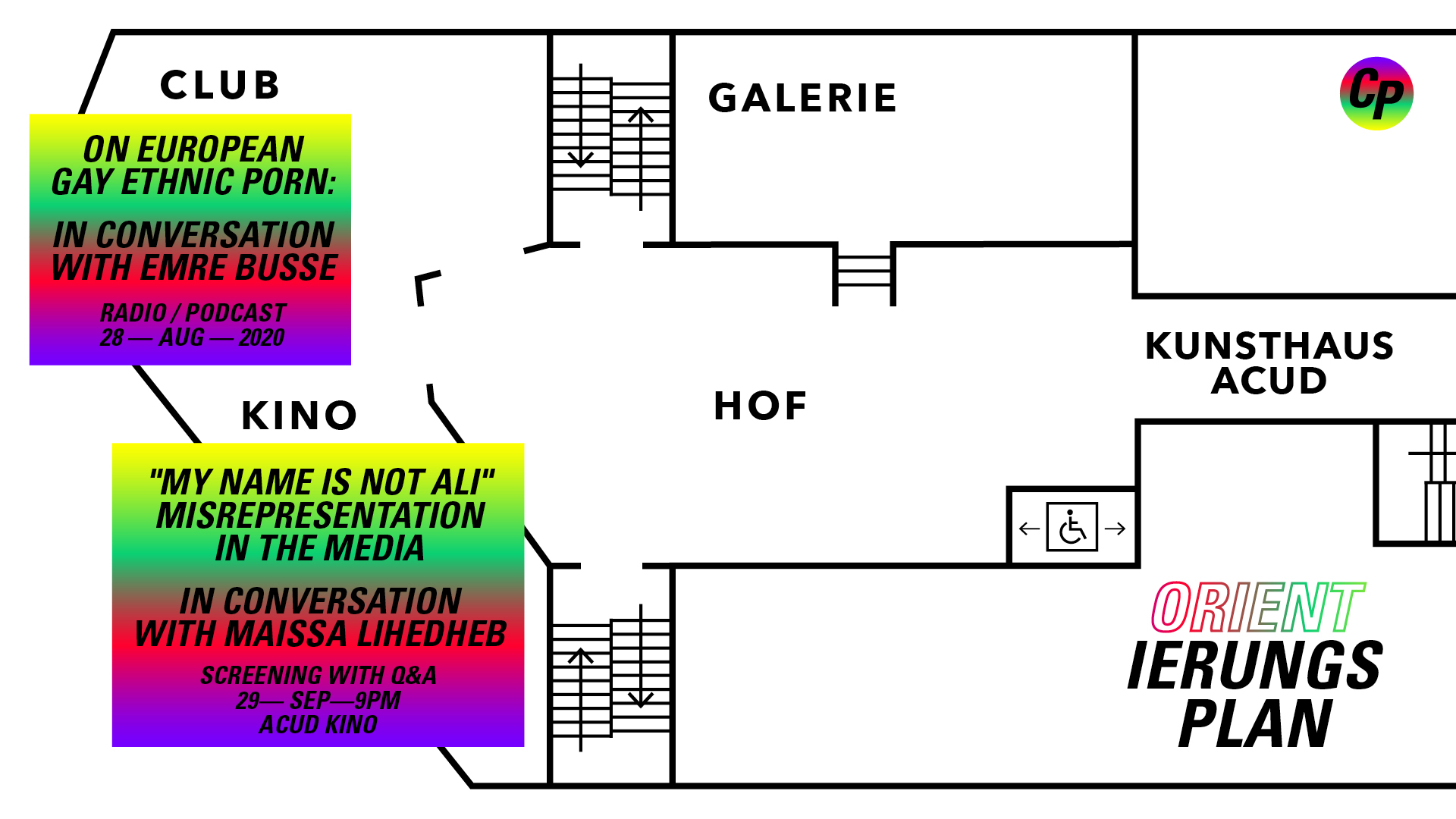 UPCOMING EVENT
ORIENTierungsplan Episode #2: My Name is Not Ali: Misrepresentation in the Media