Die Party des Monats (der zeitgenössischen Musik) feiern wir mit Musik von Julie Gayard & Mélodie Melak (ACUD), Ōtone (YGAM) und N.E.W.
Das Trio N.E.W. aus Sabine Ercklentz, Andrea Neumann und Ute Wassermann mischt in seinem Improvisations-Set fragile wie unter der Lupe vergrößerte Geräuschtexturen mit walls of noise zu einem kontrastreichen, mal gestisch, mal statisch skurril grotesken Klangraum.
Der für seine abstrakten industriellen Klanglandschaften bekannte Ōtone (YGAM) manipuliert in seinen Performances Material seiner field recordings mit metallischen Instrumenten seiner Tetsu-Serie. Dabei spielt er mit dem akustischen Gedächtnis der Zuhörer*innen, um neue hörbare Kombinationen und Assoziationen zu schaffen.
Das Projekt ist für Menschen mit motorischen Einschränkungen barrierefrei.
Wir bitte um 5-10 Euro Spende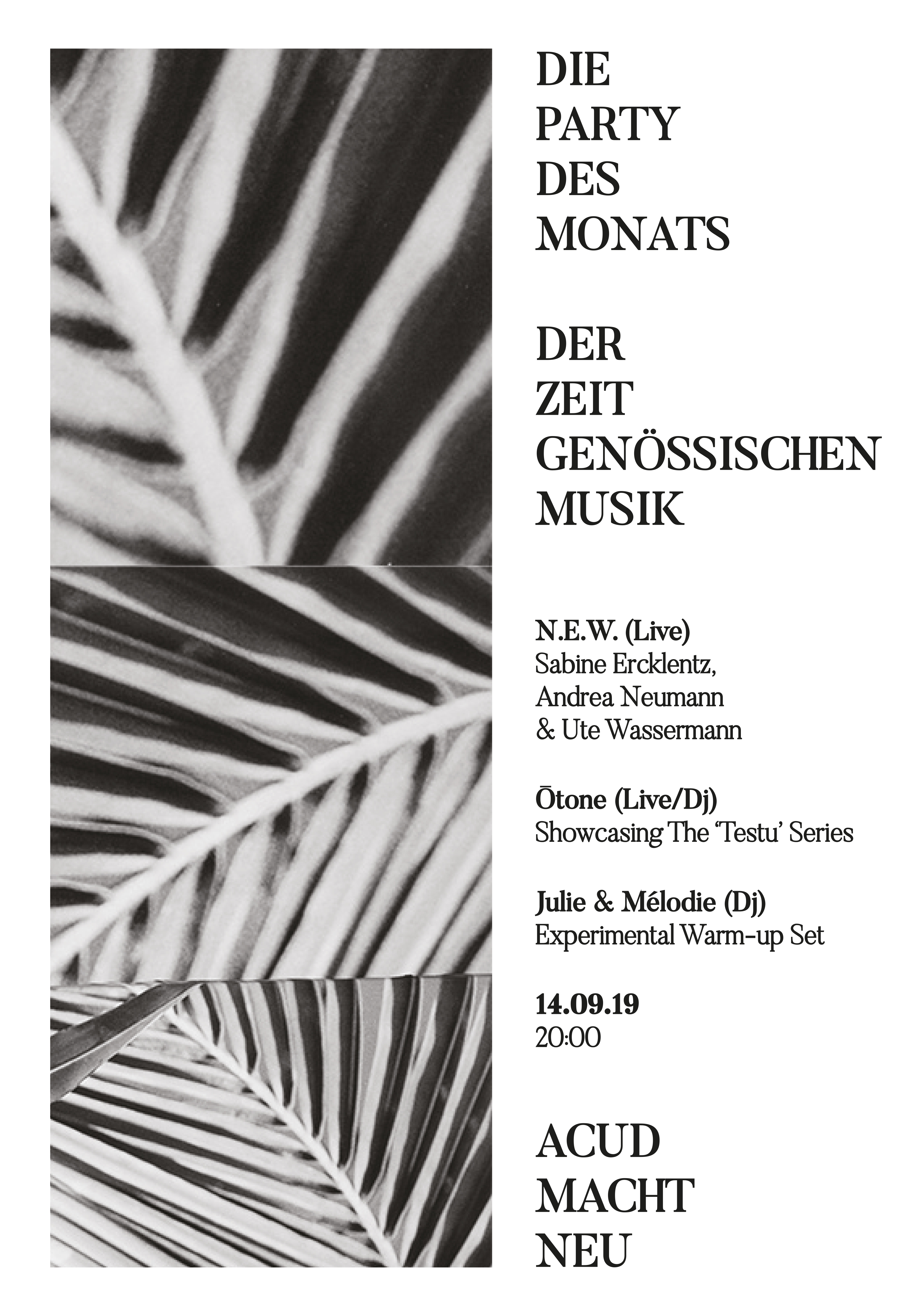 English
We celebrate the party of the month (of contemporary music) with music by Julie Gayard & Mélodie Melak (ACUD), Ōtone (YGAM) and N.E.W.
The trio N.E.W. from Sabine Ercklentz, Andrea Neumann and Ute Wassermann, mixes fragile and magnified sound textures with walls of noise in their improvisation set to a contrasting, sometimes gestural, sometimes statically bizarrely grotesque sound space.
Ōtone (YGAM), known for his abstract industrial soundscapes, manipulates material from his field recordings with metallic instruments from his Tetsu series. He plays with the acoustic memory of the listeners to create new audible combinations and associations.
Das Projekt ist für Menschen mit motorischen Einschränkungen barrierefrei