Dry Agency presents 'Electronic Music Production Courses', starting November 5th at ACUD MACHT NEU.
English Course: 18:00 - 20:00
German Course: 20:00 - 22:00
6 lessons weekly, 20 Euros each.
*Affordable prices and professional teachers*
Book your spot now, send an email to info@dryagency.com with your name and in which language you would want your course to be in.
'Electronic Music Production for Ableton' in German will be Mah Tti.
'Electronic Music Production for Ableton' in English with Amedeo Cappelletti.
ABOUT
Mattia Onori
is a berlin-based sound designer for motion pictures, electronic music composer, teacher and freelancer in the fields of film, special audio and sound art. He is constantly searching for new ways to express himself through sound. Besides the degree in audio production, Mattia has written articles for the online electronic music magazine soundwall and produced various sound design works for movies which also landed at Berlinale International Film Festival.
From his obsession for analog gear and modular synthesis come his eclectic works as HRNR. Besides mixes of different ambient and techno nuances, he designs drony panoramas where noisy influences are poised between a natural analog sound and a cumbersome one, featuring the unique soundscapes of his experimental electronics.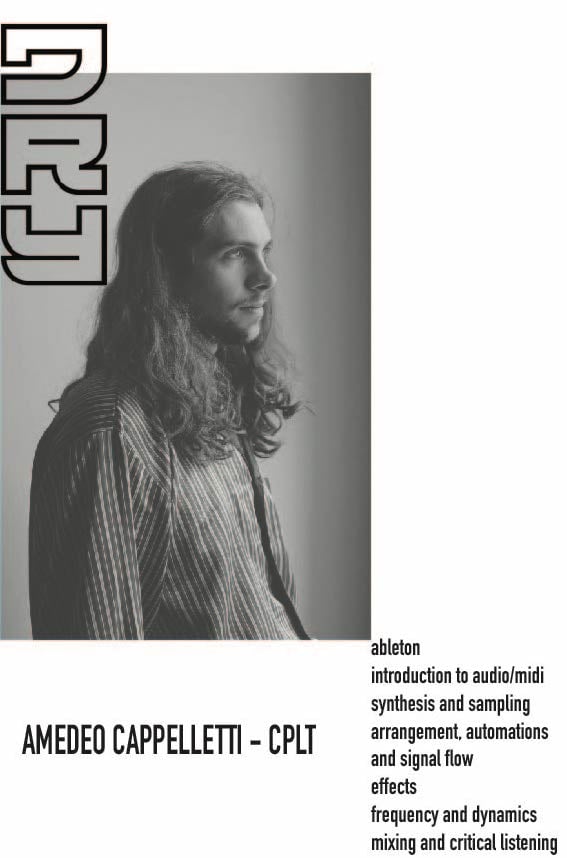 Amedeo Cappelletti
.. in music cplt, is a sound designer, a music producer and performer based in Berlin. His works are investigations of sonic abstractions between the connotations of drone, ambient and electro-acoustic soundscapes. His productions rely on modular synthesis, found sound and electronic manipulations of acoustic instruments. Most of cplt's performances are multimedia and genre bending experiments, taken as a mean to explore how different fields and traditions can coexist outside of their native environment. As a music production degree graduate, past experiences include collaborative performances with poetry, dance, classical choir singers and musicians but also music and sound design for moving picture, sound walks, auto-generative compositions and multi-channel sound installations'